February 2016 | Volume XXXIV, Issue 1 »
It Takes a City: Chicago Collections Brings Collaboration to the Next Level
January 25, 2016
Scott Walter, DePaul University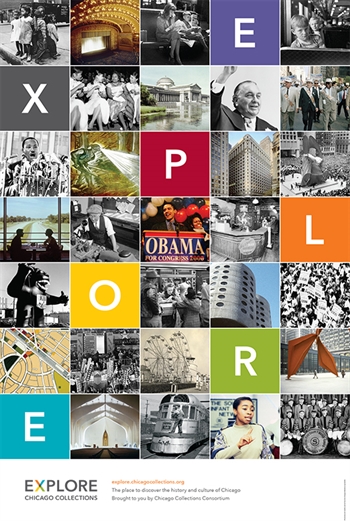 There are few cities that support their libraries, archives, and museums the way Chicago does. Chicago playwright David Mamet famously referred to the Chicago Public Library as his "alma mater," and Chicagoans have enjoyed several celebrations of our cultural heritage in recent months, including Chicago Museum Week, Chicago Open Archives, and the Chicago Humanities Festival. In the midst of these events, a new partnership has arisen from the work of more than twenty libraries, archives, museums, historical societies, and other cultural heritage organizations around Chicago aimed at preserving and sharing the history and culture of the region.
Chicago Collections (www.chicagocollections.org) represents a new level of collaboration by Chicago's cultural heritage community; members include University of Chicago, Chicago Public Library, University of Illinois at Chicago, Newberry Library, DePaul University, Theatre Historical Society of America, Art Institute of Chicago, Chicago Zoological Society, and several other significant collections. The project is supported through a combination of dues from member organizations, individuals, and foundation support, notably from the Andrew W. Mellon Foundation.
Following several years dedicated to strategic planning and resource development, Chicago Collections launched its public programs in August with an exhibit at Chicago Public Library's Harold Washington Library Center, "Raw Material: Uncovering Chicago's Historical Collections." A few highlights of the exhibit (as cited in "Chicago Collections brings city-related archives under one digital roof," Chicago Tribune, November 4, 2015) included a 1937 map of Brookfield Zoo, a drawing of the Picasso sculpture by Pulitzer Prize-winning editorial cartoonist John Fischetti, and notes from Second City workshops. The article describes the items as "quirky, technical, surprising, and profound," and makes it clear that this is a collection for every interest, not just archivists and scholars.
The fall also saw the first in a public lecture series promoting greater awareness of the collections and expertise available to students of the Chicago experience at our member institutions. Dominic A. Pacyga, professor of history at Columbia College Chicago, gave the inaugural lecture, "Engaging Chicago: Telling the City's History," on October 6, 2015, and signed copies of his new book, Slaughterhouse: Chicago's Union Stockyard and the World It Made (University of Chicago Press, 2015).
In addition to these public programs, Chicago Collections has launched a Cooperative Reference Service to serve the global audience of students, scholars, and Chicago enthusiasts and to direct research questions on areas of shared concern to experts at participating institutions. Working actively with teachers and students participating in the Chicago Metro History Education Center (www.chicagohistoryfair.org), the project brings greater awareness of primary and secondary sources that will help K-12 students and teachers to conduct their own research into the history of the city.
Underpinning each of these programs is a digital initiative, Explore Chicago Collections (www.explore.chicagocollections.org), a gateway to discovery and use of primary source materials available in member collections. With thousands of unique visitors from every state and more than twenty countries around the world in its first month of operation, the site has been called "one-stop shopping for researchers" by the Chicago Tribune and a "game-changing collaboration" between libraries, archives, and museums, by Chicagoist.
Chicago Mayor Harold Washington (1922–1987) famously promoted a vision for the city where "Chicago works together," and Chicago Collections represents a new level of collaboration among the libraries, archives, and museums of our city, great and small, and a new model for collaboration across a metropolitan area in support of teaching, learning, scholarship, and community engagement with library collections and expertise. Our first year has been an extraordinary one and we invite you to watch us grow.
For more information on Chicago Collections, contact Executive Director Jaclyn Grahl (jgrahl@chicagocollections.org). Follow Chicago Collections on Facebook (https://www.facebook.com/ChiCollections) and Twitter (@ChiCollections) or with the hashtag #TogetherChicago.