December 2015 | Volume XXXIII, Issue 6 »
Small Is Beautiful: Trimming Big Ideas Down to Size
November 30, 2015
Renee Grassi, Glen Ellyn Public Library, and Tony Lucarelli, Fountaindale Public Library District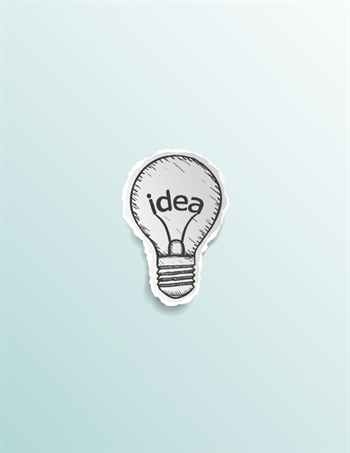 Most of us have been there at some point: sitting at a conference, listening to representatives of big(ger) city libraries present a project, thinking to yourself, "How would I ever pull this off at my library?"
You ask: What was your budget? (Enormous.) How did your staff have time to do this? (Oh, our three computer programmers and four graphic artists did that part.) How can I adapt this to fit my library? (Shrug.)
Several Illinois librarians have adapted a project or concept instituted by a larger library—whether measured in population served, staff size, budget, or other measure—and brought it into their own library or community. Here's how.
Accept the Challenge
Tony Lucarelli, systems librarian at the Fountaindale Public Library District, attended a marketing presentation by the Brooklyn (New York) Public Library on using postcards to publicize library events in-house, instead of posting signs or flyers. Brooklyn Public Library serves a population of 2.5 million, in more than sixty branches, with annual revenue of $139 million. Fountaindale serves a population of 69,600, has one main building, and an annual budget of about $8 million. Not exactly comparable numbers.
Fountaindale didn't have a graphic artist on staff at the time, nor the ability to outsource the printing and production. Lucarelli created a template for 4" x 6" cards in Microsoft Publisher, printed them on 8.5" x 14" card stock, and then cut the cards to size. He found an inexpensive postcard rack and placed it near the circulation desk and book returns, readily visible to anyone visiting the library.
"I thought Brooklyn Public Library had a great idea and concept, and took it as a challenge to adapt it to my library. Once I figured out the template and how I would produce the cards, everything fell into place," said Lucarelli. "Card stock was $15 for 250 sheets, and the postcard rack was $150 with shipping. We use our photocopiers as printers, so all the printing was done in-house. I would usually do fifteen cards per program, as an initial run, and could easily print more if we ran out."
PARTNERS MAKE IT POSSIBLE
From 2012 to 2014, Renee Grassi worked as head of Children's Services at the Glencoe Public Library. She wanted to implement a program called Sensory Storytime that she had learned about, but it required staff, materials, and space that exceeded the library's capacity at the time. Despite the challenges, Grassi knew this program would be well received. Glencoe, serving a population of nearly 9,000 people, is a member of the North Suburban Special Education District and some families chose Glencoe, just so their children could attend this school district. The priority was to bring this type of programming to serve an underserved population in the Glencoe community—it just had to be done in a different way.
The solution? A Sensory Storytime program was developed in partnership with a local disability-related organization called the National Lekotek Center. Grassi and the Lekotek's play specialists designed the program together. Lekotek ran the program and provided the accessible toys and materials. The library provided a small honorarium for staff time and cost of supplies.
The program would not have gotten off the ground without generous funding from the Friends of the Glencoe Public Library. They understood the need and the value, so were happy to financially support it. Through partnerships, the library was able to provide a new and innovative program to its community, while not over-extending staff and library resources.
KNOW THE NEED, FILL THE NICHE
Media labs have been a hot topic of discussion in public libraries for the past couple of years. Fountaindale Public Library District, Arlington Heights Memorial Library, and Schaumburg Township District Library all offer elaborate and large-scale production studios.
Director Dawn Bussey from the Glen Ellyn Public Library (GEPL) knew the creation of a new media lab was a real possibility for Glen Ellyn, which serves a population of 27,450. But some questions needed to be answered first. Would the lab need to be so elaborate? What other resources are available locally for residents? Do those who need/want these resources already have access to them in some way?
After some research and investigation, Bussey learned that the local community college was already building a media lab in its new library. She didn't want to use tax dollars to replicate services, but also knew that Glen Ellyn high school students are often required to create more and more complex projects. Because these students do not have access to the equipment at school, the library could fill in that gap. Glen Ellyn also has a large number of individuals in its community who work from home or run their own businesses, and they may need to create, convert, or edit projects as well.
The result? A small media lab to fit the niche. The library enclosed an odd-shaped corner space with soundproof walls and added equipment for media conversion, content creation, and content editing. Then, staff started teaching classes about how to use the space and its equipment.
"Build it and they will come," Bussey says. "It may not be as big and fancy as some of the others that you have seen or heard about—but in reality, most of your patrons do not know what other libraries are offering and they are happy to have what you are able to provide."
PUT YOUR OWN STAMP ON IT
Sometimes that "big idea" is waiting to be found in your very own library community—all you have to do is ask. As a community engagement librarian at the Forest Park Public Library, Alicia Hammond always asks the community what interests them. She noticed a marked interest in art. People craved opportunities to make things and to express themselves creatively.
One day, Hammond began a conversation with library patron and local artist Elaine Luther about this very subject. She soon learned about a public art campaign that was taking the Chicago art community by storm. It was called You Are Beautiful and was developed by Chicago artist Matthew Hoffman. It began simply with one hundred stickers in 2002 in Chicago, and has since evolved into block-long murals, public installations, and exhibitions at cultural institutions involving thousands of artists. In 2015, Hoffman took up residency in the Andersonville neighborhood of Chicago, installing multiple murals using large-format block letters throughout the neighborhood.
Hammond was excited at the prospect of implementing something like this at her library. But with a population size of only 14,000, would a big idea like this be right for the Forest Park community? And she didn't want to simply copy another work of art; she wanted to take the foundation of the idea and scale it for her community. She knew it had to be an interesting piece of art, but more importantly, she wanted it to be a project that the community could work on together.
After further discussion and collaboration, Luther and Hammond decided to create an outdoor work of art in Forest Park, and EXPLORE: Pop Up Community Art Project was born. Luther constructed three-foot-tall letters that spelled the word EXPLORE, which were anchored in the front yard of the library. Community members of all ages were then welcomed to grab a paintbrush and add their creative touches. After its completion, the artwork stood in the front yard of the library for the next two months.
"I had a big realization that I did not have to do everything myself," Hammond said. "Find people who are experienced and passionate about the things you want to create, and just ask for help. Creating community partnerships and finding experts is how things get done."
Have a successful story about bringing a big idea into a small(er) library? The Illinois Library Association's Best Practices Committee would like to hear about it! They will be hosting programs at the 2016 Reaching Forward and ILA Annual Conferences on this topic, and would like to feature stories and examples from other Illinois libraries. Send your stories to Bill Pardue, Best Practices Committee chair, bpardue@ahml.info.