September 2022 | Volume XL, Issue 3 »
Intellectual Freedom Challenges to Library- Initiated Programs: Some Recent Examples from Illinois Libraries
September 1, 2022
Jeremy Andrykowski, Oak Park Public Library and Matt Matkowski, Palos Heights Public Library
The American Library Association describes intellectual freedom as "the right of every individual to both seek and receive information from all points of view without restriction."1 Library-initiated events and programs pose unique intellectual freedom challenges for library workers. During recent years, there have been numerous attempts by members of the public to cancel or restrict library-initiated events and programs in Illinois. These challenges have been mounted by political conservatives as well as by political progressives. Both public and academic libraries have faced these challenges head-on, and their responses in defense of intellectual freedom can serve to guide and inspire library workers throughout Illinois.
Teri Rankin of the O'Fallon Public Library faced a challenge in March of 2018. The library planned a children's program around social justice themes. The program involved reading Dr. Artika Tyner's children's book, Justice Makes a Difference: The Story of Miss Freedom Fighter, Esquire. Members of the local Metro East Pachyderm Club objected to the use of the term "social justice," and they complained that the library was using its platform for social indoctrination. In one email, they stated that they didn't want their tax dollars to support social programs and they didn't want the library to teach children that it was acceptable to fund social programs.
In our interview, Rankin emphasized the fact that the program itself was a success. No one who had complained about the program via email actually attended the program or protested it. Nevertheless, the library continued to receive complaints even after the event had taken place. The media began reporting on the controversy, the mayor learned of it, and the city council was asked to "evaluate the library staff's poor decision making," from meeting room policy to program content. The library was eventually asked to provide a list of programs presented over the past year.
Regardless, Rankin continued purchasing books with social justice themes and she partnered with individuals and organizations to discuss issues of social justice and civil rights. She advises librarians who are organizing potentially controversial programs to try to identify words and phrases that might trigger complaints; sometimes alternative words and phrases can be used to avoid eliciting a negative reaction. If complaints come in, Rankin added, "Don't panic. Trust that what you're doing is right," and garner the support of llibrary staff and administration to present a united front in the event of a controversy.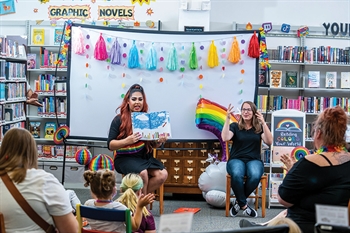 Ashley Stewart of the Caseyville Public Library held a Drag Queen Storytime on June 26, 2021. It was the first such event held in Illinois's Metro East region. According to Stewart, the library received complaints in the form of phone calls, social media posts, and emails to the library director and board. Many complaints accused the library of  indoctrinating children and allowing pedophiles in the library. In our interview, Stewart noted that most of the people complaining lived outside of the library district.
The library went ahead with the program. The morning of the program, a local church coalition held a prayer vigil outside the library. There were also protestors outside the library during and after the event. Despite these negative reactions, Stewart said the library would offer the program again. The library formed alliances with supportive community organizations including local churches and Pride groups. The Illinois Heartland Library System also offered support and assistance.
For librarians planning a program that might attract challenges, Stewart offers the following advice:
Take the time to engage your board and win their support. They will end up receiving many of the hateful messages.
Inform your staff about the program and tell them to expect calls and messages about it.
Provide support to your staff while they are receiving negative or hateful messages, as well as in the aftermath of the controversy. Provide treats for your staff (coffee, breakfast, pizza, etc.). It can be emotionally draining for them to respond to complaints.
Talk to local government officials (such as the mayor) prior to the event. They may also receive complaints. Meet with the police chief to discuss ordinances relating to protests and any safety concerns regarding threats.
Review your library's social media policies to prepare to deal with issues that might arise, like having to remove comments.
Develop talking points and responses to expected complaints. For example: "Many people who support this program are also taxpayers, and you are not a taxpayer in our library district."
Stewart says the challenges to the program will have no impact on program planning going forward; her library's board is progressive and understands that everyone, children and parents alike, has the right to the information presented in the program. In the end, the program went very well. When it was over, library staff and program attendees formed two lines through the protestors to escort the drag queen to her car.
Edward Remus of the Northeastern Illinois University Libraries faced a challenge in November of 2021. In partnership with the university's history department, Remus organized a panel discussion featuring scholars with differing points of view on the Second Amendment. Three of the panelists favored stricter gun control laws while one of the panelists, Dr. Joyce Lee Malcolm, did not.
After the event, Remus received an email from a scholar who claimed that the library had given a platform to a paid propagandist for a fascist and white nationalist organization when it hosted Dr. Malcolm. This scholar based their claim on the fact that Dr. Malcolm's faculty position at George Mason University is funded by the National Rifle Association. This scholar then threatened legal action against the library to prevent the video recording of the event from circulating publicly.
After consulting with university administration, university legal counsel, and the university history department, the library received unanimous support behind its decision to post the video recording of the event on the library's YouTube channel as it had previously intended to do. On the grounds of academic freedom, Remus informed the challenger that the library stood firmly behind its original decision to include Dr. Malcolm in its lineup of speakers.
For Remus, this challenge highlights the importance of building a coalition of institutional allies to support any potentially controversial events held at an academic library. The NEIU Libraries have organized numerous events featuring scholars with diverse and differing viewpoints on controversial topics, Remus noted; multiple campus partners, including many students, have come to value the library's ability to organize events of this nature. For this reason, the library was able to secure firm promises of support in the event of a controversy.
Advocacy documents published by the American Library Association provide considerable guidance for librarians who are organizing potentially controversial events and programs. Much of this guidance echoes the practices undertaken by librarians Teri Rankin, Ashley Stewart, and Edward Remus, described above. One advocacy document, "Library-Initiated Programs and Displays as a Resource: An Interpretation of the Library Bill of Rights," advises librarians to "actively seek to include a variety of programming options representing diversity of genres, formats, ideas, and expressions with a multitude of viewpoints and cultural perspectives that reflect the diversity in our communities." This document also advises librarians to stand firmly against challenges to library events and programs: "Programs should not be canceled because of the ideas or topics presented in the program or the views expressed by the participants or speakers… Library sponsorship of a program does not constitute an endorsement of the program content or the views expressed by the participants or speakers, any more than the purchase of resources for the library collection or curation of a display constitutes an endorsement of the resources content or its creator's views. Libraries should vigorously defend the First Amendment right of speakers and participants to express themselves."2
Another advocacy document, "Responding to and Preparing for Controversial Programs and Speakers Q&A," states that libraries "have a responsibility to represent diverse views and avoid bias," urges libraries to "present programs that provide multiple viewpoints," and advises libraries to select speakers who "have some expertise, credentials, or credibility on the topic they are discussing." This document adds that "it is not appropriate [to disinvite a speaker or cancel a program or event] when the topic is controversial or if there have been complaints about the speaker, program, or event." Speakers for library-initiated events should not be excluded based on "alleged behavior, past publications, or expression of controversial views." In the event of community complaints or public controversy, library staff should be prepared to respectfully explain library policies for selecting programs and speakers; library staff should also be prepared to respectfully explain "the bedrock principles of intellectual freedom."3 Coupled with the advice of librarians Rankin, Steward, and Remus, these ALA advocacy documents provide valuable support to librarians facing intellectual freedom challenges to library-initiated programs.
REFERENCES
"Intellectual Freedom and Censorship Q & A." American Library Association. American Library Association, May 29, 2007. https://www.ala.org/advocacy/intfreedom/censorship/faq.
"Library-Initiated Programs and Displays as a Resource: An Interpretation of the Library Bill of Rights." American Library Association. American Library Association, June 24, 2019. https://www.ala.org/advocacy/intfreedom/librarybill/interpretations/programsdisplays.
"Responding to and Preparing for Controversial Programs and Speakers Q&A." American Library Association. American Library Association, June 2018. https://www.ala.org/advocacy/intfreedom/controversialprogramsqa.