March 2022 | Volume XL. Issue 1 »
The Soon to Be Famous Illinois Author Project: Eight Years Old and Growing
March 1, 2022
Lucy Tarabour, Clarendon Hills Public Library
Libraries are not only where stories live, they are where stories are discovered, shared, and even created.
For the past eight years, the Soon to Be Famous Illinois Author Project (STBF), the brainchild of a small group of library marketing professionals, has uncovered hundreds of stories written by indie/self-published authors and introduced them to library patrons who have enthusiastically received them.
Originally inspired by a talk by New York University professor and branding expert David Vinjamuri at the 2013 ALA Annual Conference, this small group decided to take up the challenge that Vinjamuri threw down: to demonstrate the importance and power of libraries and librarians, especially in the age of e-books and increasingly accessible and affordable self-publication, by lifting an unknown author to prominence—to make them "famous." With that, the Soon to Be Famous (STBF) Illinois Author Project was born. Dozens of librarians signed on to contribute their time and expertise to be volunteer judges. Without their hard work, it's very likely that very few, if any of these great reads would have found their way to library shelves and recommended by librarians. What's happened with the project since it kicked off in 2014?
PROJECT EXPANSION
With a few years of the project under our belts, in 2019 we decided to add a Young Adult category to the contest to include more authors. Our inaugural YA winner was Lauren Eckchardt for The Remedy Files: Illusion. 
While it was exciting to be able to boost self-published authors by promoting them at conferences and library events, we wondered if there were other ways we could support our local writing community. The answer was to take a step back and meet authors before publication by establishing an Unpublished Manuscript Contest. Instead of a cash prize and promotion at library events, winners of the Manuscript Contest receive the services of a line editor and cover design. Again, this opened the door to a new group of authors.
In 2019, Hollie Smurthwaite won our first Manuscript Contest with her story The Color of Trauma. One other perk of the Manuscript Contest is, that if the winning author self-publishes their manuscript, it is automatically entered in the following year's self-published book contest as a semi-finalist. Hollie followed this path and ended up winning the self-published book contest in 2020.
The idea of a Spanish language category for the contest has been on our minds for some time. To our delight, last year we were approached by librarians from a Hispanic networking group called HOLA offering to help us expand the contest to Spanish language literature. Led by Claudia Baranowski of the Schaumburg Public Library and Tina Viglucci of Gail Borden Public Library in Elgin, this group hit the ground running, publicizing the new contest dubbed "De la Página a la Fama," and recruiting Spanish-speaking judges. This past November we were thrilled to award the inaugural de la Página a la Fama award to Pascuala Herrera of Franklin Park for her memoir No siempre es un valle de lágrimas.
INCREASED REGIONAL AND POTENTIAL NATIONAL EXPOSURE FOR WINNERS
Through our partnership with BiblioLabs and the Reaching Across Illinois Library System, we were able to offer our authors increased "discoverability" of their work. Contest participants now may have their books included in online platforms such as OverDrive, Axis 360, DPLA Exchange, and cloudLibrary, and may earn royalties based on number of checkouts.
There is also an opportunity for national recognition for our winners. Since its inception, the STBF Illinois Author Project has inspired 16 other states and two Canadian provinces to establish their own indie author contests. In 2018, these state/province contests, collectively known as the Indie Author Project, offered all contest winners the opportunity to compete for national recognition as Indie Author of the Year.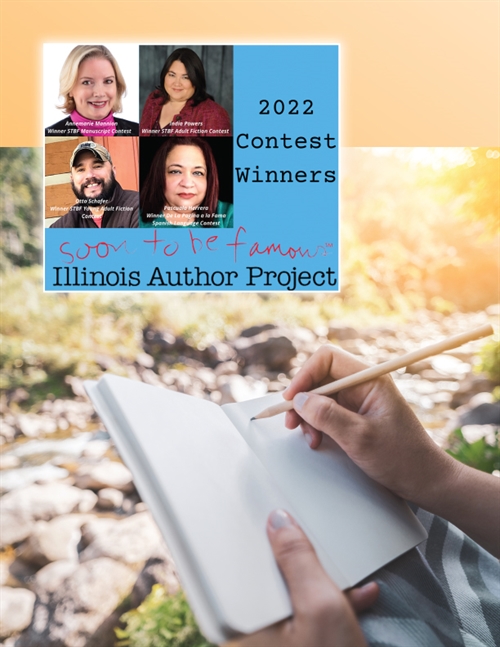 Annemarie Mannon, Winner STBF Manuscript Contest; India Powers, Winner STBF Adult Fiction Contest; Otto Schafer, Winner STBF Young Adult Fiction Contest; Pascuala Herrera, Winner De La Pagina a la Fama Spanish Language Contest
The 2021 Indie Author of the Year is Amy Rivers from the Lafayette Public Library in Lafayette, Colorado for her novel All the Broken People. Upon winning, she said, "I am so very honored to be named 2021 Indie Author of the Year. This program combines two of my biggest passions: writing and libraries. I am looking forward to a year of learning, growing, and sharing. I just can't say thank you enough." Our congratulations to Amy!
A COMMUNITY IS FORMED
Over the years, we've had the pleasure of hosting many live and (more recently) online conversations with our authors. There seems to be a pattern to these gatherings. At the beginning, the moderator asks questions and each author answers, but before long, they're asking questions of each other, clearly excited to be able to share their experiences, questions, and feelings about what can be a pretty solitary pursuit. At a recent presentation, as we were closing, one of the participating authors said, "I could have talked with you all for another hour!" We may not have thought that creating a special community of writers was one of our primary goals for the Soon to Be Famous Illinois Author Project, but we're very heartened to see it happening.
WHAT'S NEXT?
As we gear up for the judging phase of the 2022 Manuscript Contest, and prepare to receive entries for the 2022 Adult, YA, and Spanish language contests, there is planning in the works for even more additions. Watch for a Spanish language manuscript contest, and possibly a short form contest for all our categories. Sign up for our newsletter at soontobefamous.info for all the latest information.
Finally, we'd love for you to join us. We always welcome new folks to the STBF Committee, so think about joining this fun group! Contact any member of the team for more information:
Eva Baggili, Chicago Ridge Public Library,
ebaggili@chicagoridgelibrary.org
Claudia Baranowski, Schaumburg Public Library,
cbaranowski@stdl.org
Jeffrey Fisher, retired from Fountaindale Public Library,
ghotipress@gmail.com
Gretchen Murphy, Wheaton Public Library,
gmurphy@wheatonlibrary.org
Denise Raleigh, Gail Borden Public Library,
draleigh@gailborden.info
Lucy Tarabour, Clarendon Hills Public Library,
publicity@clarendonhillslibrary.org
Tina Viglucci, Gail Borden Public Library,
tviglucci@gailborden.info
Nicole Zimmermann, Reaching Across Illinois Library System
(RAILS), nicole.zimmermann@railslibraries.info
For more information, please visit soontobefamous.info.