March 2022 | Volume XL. Issue 1 »
ILA Best Practices Committee on Writing a Land Acknowledgement Statement
March 1, 2022
Alea Perez, Elmhurst Public Library and Jen Ryjewski, Downers Grove Public Library
During the 2020-21 service year of the Illinois Library Association Best Practices Committee (ILA BPC), we decided, as a group, to write a statement of philosophy that would serve as the lens through which we would identify, produce, and review our committee work. As the writing process gained momentum, however, we realized the necessity of acknowledging our positionality in the spaces we occupy—not only professionally, but culturally, politically, and geographically—and we would accomplish this by including a land acknowledgment statement as part of our committee's statement of philosophy. Alea Perez, committee chair when this project began, led the way, as she has extensive experience in working towards diversity, inclusion, and representation in Illinois public libraries.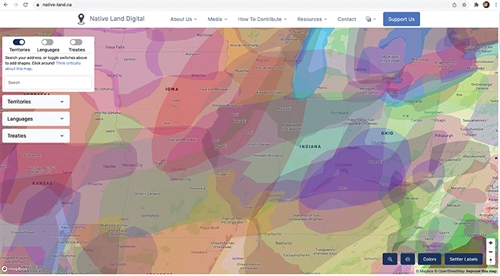 As the research got underway and progressed, we learned that one of the most challenging parts of the drafting and writing process was trying to determine whose ancestral lands Illinois libraries occupied and identify sources that traced the stories and diaspora of Native peoples, not simply their migratory trajectory. Geographic stewardship and itinerancy prevailed for a variety of reasons: access to natural resources, migratory practices, tribal wars, etc. As a result, the land now known as Illinois was home to many different Native peoples, not only those who lived in this area at the time of forced removal.
Once Alea collected sufficient and credible evidence of the native inhabitants of Illinois soil, she proceeded to construct a land acknowledgment statement using the following steps: research, review resources, reflect, and write. The ultimate goal was to call out and name the exact harm done, without centering all the attention on the oppressors, as this would have been at the expense of honoring the plights and resilience of those who survived.
As we look back on our work on the land acknowledgment statement—a living, breathing statement—we note that it could be further improved upon by broadening its scope to be more inclusive of the excluded Nations who have been stewards of the land now known as Illinois, as well as providing contemporary insights on them. In addition, organizational work should aim to integrate the direct involvement of Native peoples, which would underscore its value and integrity. In so doing, such work could potentially promote far greater benefits such as fostering authentic relationships with Native peoples, increasing knowledge and understanding of where we came from and where we should go in order to correct past injustices and prevent future ones, and creating potential partnerships for future actions and/or planning for Illinois libraries.
One final piece of advice to note before libraries embark on the drafting and writing process is to know precisely what they intend to do with their land acknowledgment statement and what further action is expected from those who read or hear it. These are essential questions that must be answered so that the statement is not merely performative but carries real meaning and impact.
The following Land Acknowledgment statement is in an abridged version due to its incorporation into the ILA BPC
Statement of Philosophy:
As part of our commitment to IDEA, it is also important to note that the ILA Best Practices Committee recognizes that Illinois libraries exist on the ancestral lands of the Peoria and Miami nations, and honors their stewardship of this land.
In 1795, the people of the Miami nation, having lived on these lands for hundreds of years, ceded their vast stretches of land to the states now known as Ohio, Illinois, Indiana, and Michigan and were forcibly and violently relocated to what is current day Oklahoma.
The Peoria were part of the Illinois Confederation, which is a collective of many nations who joined together and that existed for thousands of years on the lands now known as Illinois, Michigan, Ohio, and Missouri. They ceded their lands in 1832, and were relocated first to Kansas, then Oklahoma.
RESOURCES
The Peoria Tribe of Indians of Oklahoma website offers information about the tribe's history and culture, its tribal government, resources and services for tribal members, and more: https://peoriatribe.com/
The website of the Miami Tribe of Oklahoma states two purposes: "virtual community connectivity" and is intended to benefit "all myaamia citizens, and to those who visit this site as guests:" https://www.miamination.com/
The Miami Nation of Indians of Indiana notes "Our federal recognition was illegally taken from us in the late 1800s." The mission of the nation's website is "...to protect, promote, record, and share the Miami of Indiana's history, language, culture, and heritage. The purpose of this site is to share these and our ongoing struggle to regain our Federal Recognition:" https://www.miamiindians.org/
According to its website, "Native Land Digital is a Canadian not-for-profit organization, incorporated in December 2018. Native Land Digital is Indigenous-led, with an Indigenous Executive Director and Board of Directors who oversee and direct the organization." View the project's maps (pictured above) providing location-based information about nations, languages, and treaties: https://native-land.ca/
The Native Governance Center "creates accessible, introductory-level resources on a variety of topics related to sovereignty, governance, and nation rebuilding." Visit the Center's website for an array of resources, including "A Guide to Indigenous Land Acknowledgment:" https://nativegov.org/news/a-guide-to-indigenous-land-acknowledgment/