Adaptation, Innovation, Outreach: A Year of Libraries Coping With COVID-19
June 1, 2021
Sarah Rice, Forefront
In March of last year, Governor Pritzker issued a disaster proclamation and the first shelter in place order for the state of Illinois. Schools closed, large gatherings were prohibited, and the boundaries of what constituted "essential" needed to be navigated. Libraries across the state were faced with hard decisions about serving their communities, following the law, and safeguarding the welfare of their staff. Over the next few months, additional orders were issued, extended, and modified. In May, the "Restore Illinois" re-opening plan was unveiled. This tied certain metrics to the types of services and gatherings that were permitted within Illinois. However, many libraries re-opened their doors only to have to shut again, while running curbside pickup and virtual programming. The uncertainty, constant updates to shifting requirements, and lack of needed support in many areas all contributed to create an incredibly messy situation for librarians and library networks to navigate. But Illinois libraries and librarians met this challenge with determination to support their patrons and their fellow libraries, quick pivots to online versions of usual programming, and clever innovations to take best advantage of a socially distanced and mostly virtual environment.
In addition to the great work by individual libraries, library associations and other organizations also moved to keep members informed and safe. University of Illinois Springfield's Interim Chancellor instituted weekly briefings (called United in Safety, so that the acronym is also UIS) with speakers on current topics. The Reaching Across Illinois Library System (RAILS)'s COVID-19 information page includes news from other organizations, national and international  updates, various resources, and the results of several member surveys they distributed. The results of these surveys show what essential actions libraries provide, what virtual programming is being offered, and whether responding libraries are closed, available for curbside pickup, or open for certain hours. Along with similar updates from the state government and stories from individual libraries, the ILA also created the Bigger than a Building campaign to aid libraries in sharing information with their communities. The Illinois Heartland Library System (IHLS), in addition to a resource page with numerous examples of reopening plans and COVID-19 response pages, kept its members aware of their colleagues' hours and availability through a survey tool initially administered in May and finally updated in December.
The survey data collected highlight how much services and availability could differ from one area to another. In IHLS' December 2020 survey, just over half of respondents said they had returned to regular hours. However, nearly 20% were still completely closed and more than half of the remainder were limiting their number of patrons to 25% of capacity, 10 people at a time, or fewer. And whether due to technology concerns, staff capacity, hours of access, or a combination of factors a third of respondents said their library had no programming scheduled. For RAILS' reopening survey, nearly 10% of those who have updated their responses for 2021 are still entirely closed to patrons entering their building while 84% of this year's updates are offering virtual programming. All these numbers point to a situation where needed to find new ways to provide information and other, often vital, services.


As a way to advertise offerings, allow librarians to network for ideas, and showcase the creativity on display, some organizations collected more specific examples of how libraries continued engaging with their patrons and offering accessible programs. RAILS dedicates a page to the virtual offerings of its members, with many providing social media posts or video of the events in questions (https://www.railslibraries.info/responses/virtualprogram). Whether it is the LEGO movie scene challenges the Grayslake High School library posed for their staff and students or the multiple locations that hosted virtual trivia nights, author events, and storytimes the list showcases happenings of interest to all audiences.
A notable example of a library adapting their existing events to a virtual space is the College of DuPage's African-American Read-In. Unable to host it in the library as usual, the event was changed to a YouTube event. Prior to streaming, students, faculty, and staff were encouraged to film themselves reading a relevant selection. Christine Kickels, a librarian at College of DuPage, said the response was strong. Then, a time was chosen to release the video, creating the sense of an event, even with no physical space to gather in. And as is frequently the case with material made online, the playlist of poems recorded is still available and has hundreds of views.
At the Barrington Area Library, Community Engagement Librarian Sam Adams-Lanham mentioned that Zoom programming allowed "snowbird"s patrons to continue attending events from as far away as Arizona and Florida. And events could come together quickly when participants did not need to be in the same space. The day after a Black Lives Matter rally arranged by local students, the library hosted a conversation titled After the Rally that shared resources and experiences for the community. Additionally, they discovered, as did many other libraries, that activities often aimed at children and young adults could appeal to an adult audience as well. Once limited service was available, take and make kits were offered by the adult services department as well as youth services. They also created Book Bundles as a way of performing distanced readers advisory. Interested patrons could fill out a form and a librarian would put together a selection of titles to pick up.
In addition to transitioning traditional library services and programs to a virtual environment, many libraries also took this opportunity to try out new partnerships or reach their communities in different ways. Diana Brawley Sussman, director of Carbondale Public Library, mentioned that they were able to partner with the League of Women Voters and the NAACP to provide virtual candidate forums for local elections as well as online Lawyer in the Library consultations. With recordings available on their YouTube channel, many more people could find this useful information than may have otherwise.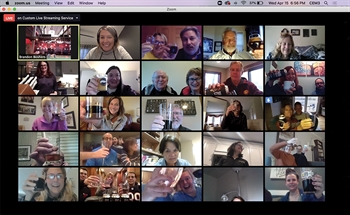 Vernon Area Public Library's Socially Distanced Beer Tasting
And at the Vernon Area Public Library in Lincolnshire, one of outreach librarian Ashley Johnson's favorite events was their Socially Distanced Beer Tasting. A local brewery created themed four-packs for pickup and a local brewmaster led a Zoom call where folks met up and enjoyed their beverages. Ashley shared details of how to set up this kind of virtual event involving a physical component over at the Programming Librarian blog. On a more serious note, the Vernon Area Public Library also hosted a multi-day mini-conference with local businesses and domestic violence awareness programming with a local legal aid organization. The latter included sessions disguised as cooking demonstrations where at-risk individuals could raise questions in the chat.
Besides the distanced programming and transitioned services, libraries kept their communities connected with all the tools at their disposal. At the University of Illinois Springfield's Brookens Library, head of user services Sarah Sagmoen created a map to help students find nice locations to study in good weather. Kim Tipton, reference librarian at McHenry County College, created a rotating guide to instruct students by focusing on different programs each month as well as helping create a relaxation guide to encourage students to remember self-care. For much needed technical assistance, the College of DuPage library was able to use CARES Act funding to acquire and distribute laptops and Wi-Fi hotspots to students. At Vernon Area, traditionally mailed postcards allowed the library to spotlight one major happening at a time and grab interest from patrons.
Of course, there are difficulties with any large change. But some policies developed out of need can prove to be beneficial going forward. Hard conversations about keeping the library relevant were common in areas with low technology use or specialized populations, such as students. Instituting tutorials to help patrons navigate Zoom became necessary. Beefing up the library's social media presence was even more integral to reaching patrons than ever before. Sam Adams-Lanham mentioned how much she missed being able to just quickly run an idea by a nearby co-worker. UIS librarian and associate professor Pamela Salela noted the Zoom fatigue everyone felt a few months in. However, there are still those bright spots. Adams-Lanham also shared that focusing on completing projects was  easier at home. Ashley Johnson said Vernon Area went fine free, a policy that would have come in time but was hastened by the pandemic's onset. And for many, shorter shifts, work from home options, and virtual programming are here to stay.
The effects of the COVID-19 pandemic have been felt for more than a year. The changes that have come in its wake will likely affect us all for years to come even with vaccines released. But Illinois' libraries and librarians have shown in myriad ways that the library is more than a building, that the community can count on their libraries to do absolutely everything in their power to meet their needs, and that necessity truly is the mother of invention. Hopefully, the future will be able to incorporate the best ideas that came out of this difficult time into a safer landscape.