August 2015 | Volume XXXIII, Issue 4 »
Voices from the 2015 ALA Annual Conference
August 1, 2015
"Wow, what a day. I think June 26 is going to be Anthony Kennedy Day in American history. I think that actually will happen. It should be a national holiday, and it should be named for Justice Kennedy."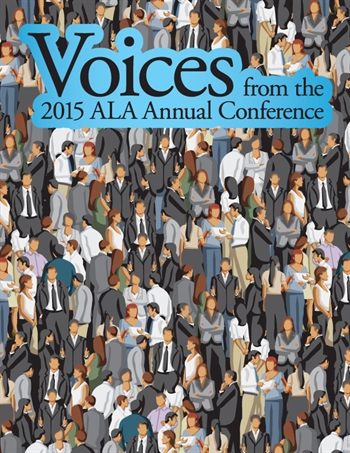 Roberta Kaplan, Keynote Speaker, addressing the Supreme Court decision on marriage equality
"I was rescued by librarians. It was librarians who said, 'Maybe you would like to read The Hardy Boys as well as Nancy Drew.' It is true for me, as for so many countless others, that librarians saved my life, my internal life."
Gloria Steinem, Auditorium Speaker
"History is one war after another with a bunch of murders and natural disasters in between."
Sarah Vowell, Auditorium Speaker and author of Assassination Vacation
"I adore librarians because you're the curators. You're better than a really good weed dealer; better than a good weed farmer. You run the best dispensaries."
Nick Offerman, Auditorium Speaker and co-star of Parks and Recreation
"Illiteracy is certainly a failure of democracy."
Edwidge Danticat, Auditorium Speaker and author
"Here's what I mean by the miracle of language. When you're falling into a good book, exactly as you might fall into a dream, a little conduit opens, a passageway between a reader's heart and a writer's, a connection that transcends the barriers of continents and generations and even death . . . And here's the magic. You're different. You can never go back to being exactly the same person you were before you disappeared into that book."
Anthony Doerr, 2015 winner of the Carnegie Medal for Fiction for All the Light We Cannot See
"With a bolt of lighting on my kicks . . . the court is SIZZLING. My sweat is DRIZZLING. Stop all that quivering. Cuz tonight I'm delivering."
Josh, one of two basketball-playing brothers in Kwane Alexander's Newbery Medal winning-novel-in-verse, The Crossover
"This speech that I am giving will be transcribed into zeros and ones and released into a sea of information so that you can always hear my voice. Let this be my love letter to you even long after I am gone."
Dan Santat, 2015 (Randolph) Caldecott Medal for The Adventures of Beekle: The Unimaginary Friend.
"We need to change the definition of libraries and librarians in our dictionaries."