March 2020 | Volume XXXVIII. Issue 1 »
ILA Strategic Plan: Current Progress on the Strategy for a Culture of Diversity and Inclusion in the Association
February 24, 2020
Sarah McHone-Chase, Northern Illinois University Libraries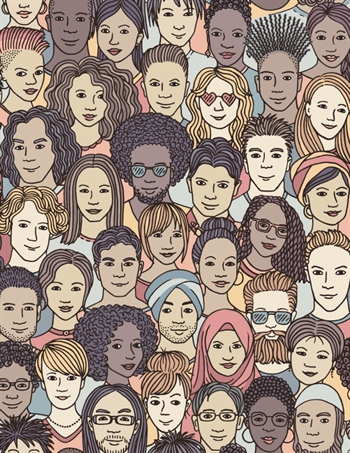 In the June 2019 issue of t he ILA Reporter we brought you a feature that described the ILA strategic plan for 2019–2022, how that plan was developed, and how it will be used. The article affirms the vision and mission statements of ILA and articulates four core strategies: Advocacy, Delivery of Member Value, A Culture of Diversity and Inclusion, and Leadership. Each strategy contains goals and desired outcomes.
Although the plan is still quite new, ILA and its various committees are already working to put these strategies into action. But this plan belongs to all ILA members! We can all help keep the momentum going by keeping track of the progress already made. This article specifically looks at progress made on the Culture of Diversity and Inclusion strategy, which includes two goals: "In the profession" and "In the association." The latter goal is of course more internal, and Diane Foote, the Executive Director of ILA, reports that the ILA Executive Board has identified it "as a top priority," making it an ideal start for an examination of the implementation of the strategic plan.
According to Foote, the most significant step ILA has taken on creating a culture of diversity and inclusion since the approval of the strategic plan has been adoption of the "Statement of Appropriate Conduct" for ILA-sponsored conferences and events. The creation of this statement was a proactive step meant to ensure event attendees that ILA is committed to providing an environment conducive to learning and enjoyment by all, "regardless of gender, sexual orientation, gender identity, gender expression, disability, physical appearance, race, ethnicity, religion, or other individual or group identity." At the same time that the Association adopted the statement, they developed and implemented a process for investigating and adjudicating complaints and secured training for ILA member leaders and staff who would be responsible for responding to and acting upon complaints, thereby following words with action. ILA has also adopted a third-party, anonymous reporting option, in the interest of protecting the privacy of anyone reporting a violation. Both the conduct statement and process were completed and in place for the 2019 ILA Annual Conference, although no violations were reported. Foote states, "We know of no other library association that has gone this far to ensure the ability to participate fully and safely in our events; ILA is truly a leader in this regard."
The Association itself is taking substantial steps to increase the "functionality, diversity, inclusivity, and recognition" of ILA committees and volunteer systems. "Inclusivity" in this sense pertains not only to geographic diversity and diversity in types of libraries but also to participation among members of traditionally underrepresented cultural, racial, or ethnic groups. In order to appeal to a larger audience of potential committee members and break down barriers that may have been discouraging committee volunteers, the Association has put into place several new methods for members to indicate their interest in committee work, including sharing a Google form rather than requiring members to log in to the ILA website to update their interests (although that option still exists). The 2019-20 Nominating Committee has also opened the process to the membership at large to suggest nominations or self-nominations, rather than relying solely on the committee members to make suggestions, thereby casting a wider, more diverse net for those nominations. ILA now also has a Zoom account for online conferencing that is available for all committees and forums to use, enabling participation among members who are not able to attend meetings in person due to geographic distance or difficulty securing time away from the library. In addition, efforts at making committee work more transparent to the general membership include the adoption of an ILA Open Meetings Policy and the posting of committee reports to the ILA Executive Board on committees' pages on the ILA website.
ILA has also created two new forums specifically designed to focus on broadening participation: one for Students and New Professionals, and one for Small and Rural Libraries. Student members can now also benefit from a new partnership between ILA and ALA to offer joint student membership in both associations for one low price ($42, compared to $25 for ILA + $39 for ALA, total $64), addressing both strategic goals of a Culture of Diversity and Inclusion in the Profession and in the Association. The Small and Rural Libraries Forum was inspired by the Association of Rural and Small Libraries national conference in Springfield in 2018, which proved popular among Illinois librarians, thus demonstrating a statewide need.
Since 2018, ILA has offered complimentary exhibit space at the ILA Annual Conference to the ALA ethnic affiliates operating in the state, and this is being done specifically in order to increase engagement among members of ethnic, cultural, and racial groups that are traditionally underrepresented in librarianship. Representing CALA (Chinese American Library Association), Mingyan Li, Liping Song, and Qi Chen state that they are appreciative of ILA's efforts to embrace the diversity of such groups. They state, "The fact that we help each other advertise our mutual events, and that we participate in ILA hosted events with a CALA Midwest table are some indications of the progress" being made on the strategic plan. In addition, The Sylvia Murphy Williams Fund has been retitled the Diversity Scholarship Fund, although it continues to support the ILA Williams Scholars program. Retitling the Fund allows for additional diversity initiatives, and its fundraising is ongoing, led by a Giving Tuesday campaign specifically targeted towards it, with the ILA Diversity Committee considering initiatives to recommend to the ILA Executive Board. Hannah Rapp, co-chair of the ILA Diversity Committee, reports that the committee is still in the process of adjusting their priorities around the strategic plan, but they are working on recommendations to the ILA Board (and other committees) on how to promote an inclusive and equitable environment within the organization and make it more welcoming for diverse library staff in Illinois. The committee also plans to nominate "rock stars" from around the state for different ILA awards in order to recognize their good work.
The ILA Executive Board approved the 2019-2022 strategic plan in April of 2019. In under a year, then, many small, but substantial, steps have been taken in order to support the strategy of fostering a Culture of Diversity and Inclusion. These steps are specific to supporting the goals of "In the profession" and "In the Association," and they are important cultural changes. It will be interesting to see the ultimate outcomes, and it will also be exciting to see what changes come as a result of the other strategies in the plan.