March 2020 | Volume XXXVIII. Issue 1 »
A Former Library Building in a New Role
February 24, 2020
Edward J. Barry Jr., Farnsworth Group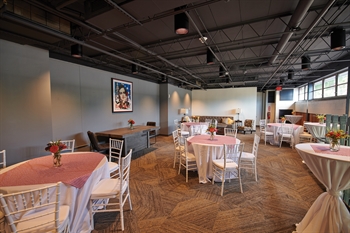 In 2019, the Betty Jane Brimmer Center for the Performing Arts opened its doors, in the former Peoria Heights Public Library Building. This Mid-Century Modernist architectural gem was purpose-designed as a public library by noted Peoria Architect Richard Doyle in 1963. Doyle, who was influenced by both Frank Lloyd Wright and Mies van der Rohe, completed a number of significant projects in his hometown of Peoria Heights, many of which are still of horizontal earth-hugging volumes, large expanses of glazing (including clerestories), and exposed steel elements (including a floating stairway) are all hallmarks of Modernist design.
Thirty-seven years after it opened, Peoria Heights Public Library left its town center location and moved westward, near a new bike and walking trail. The current Peoria Heights Public Library has been located at 816 East Glen Avenue since the year 2000. Since this move, the old Modernist library building at 1327 East Kelly Avenue has had several other lives, and was at one time slated for demolition.
In 2018, the old library building was purchased by Peoria Heights philanthropist Kim Blickenstaff, who restored it to its original beauty, transforming it into a performing arts and civic gathering venue. Numerous elements from the original library and its design were repurposed or reinvented. These included casework used to display and store the collection of long-playing (LP) albums, and multi-colored Mid-Century Modern chandeliers in the former main reading room.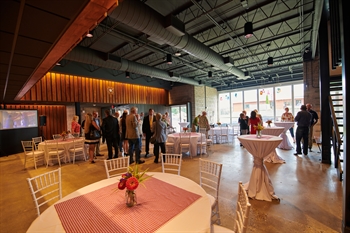 Architect: Farnsworth Group
Type of project: Adaptive re-use and renovation
Service population: 496,500
Library director: Greg Birkland
What people are saying:
"This is such a beautiful place to be and enjoy new artistic events together! We are looking forward to all the new experiences and fun times at the Betty Jayne!"
"It's absolutely beautiful and a perfect atmosphere for a cultural experience that is much needed in Peoria Heights and Peoria!"
"Beautiful place filled with beautiful people. This venue will be a centerpiece in Central Illinois. Music, the arts, special functions, performances, education all under one roof, in an effort to gather our community together."
"This is an intriguing piece of architecture with great potential to be one of Central Illinois' premier event centers!"