October 2019 | Volume XXXVII. Issue 5 »
Intergenerational Programming in Libraries: Building Bridges Between Age Groups While Increasing Community Engagement
September 27, 2019
Eric Edwards, Illinois State Library
Holding library programming intended for just one age group can prove challenging enough. But what happens when programming includes multiple age groups or is open to all ages, and the activities need to appeal to people of widely differing knowledge levels, expectations, and life experiences? Although planning and implementing such programming might seem daunting at first, particularly if a library has limited staffing or resources, the benefits to not just the library's users and staff, but also the broader community, can prove substantial. Whether it is starting an intergenerational program from scratch or expanding an existing program to accommodate different age groups, the programming can help bridge the gap between individuals of different ages who might not have much experience interacting, while encouraging librarians to think creatively about how to make the activity a worthwhile and enjoyable experience for everyone.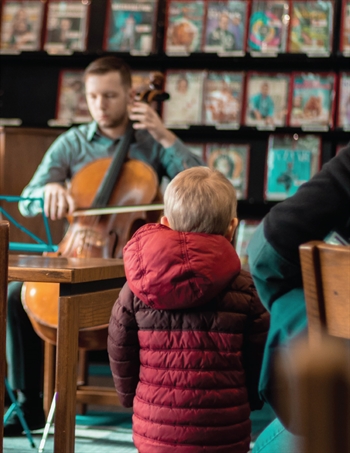 WHY MAKE PROGRAMMING INTERGENERATIONAL?
Why should a library consider planning an intergenerational program, given how challenging it might seem to devise an activity that appeals to all age groups? Members of one generation might express interest in an activity that the library originally intended for another age group, in which case the library can simply expand the scope of the program. A library can also incorporate an intergenerational program into an existing library service, such as readers' advisory. This is the approach the Eldorado Memorial Library took with its Dewey Decimators book club, which allowed people of multiple age groups to read and discuss books of various themes and genres.
In other cases, the intergenerational activity can arise almost by accident. At the Crystal Lake Public Library, the Adult Services Department had a Board Game Café, featuring various "classic" games of interest to all ages. Participants in a Youth Services Department program that ended at approximately the time the Board Game Café started would often come over to play the games, which prompted the Adult Services Department to expand the Café to all ages.
Whether a library is starting an intergenerational program from scratch or redesigning an existing service, it is important to consider community needs and seek feedback from both regular library users and outsiders. Other library staff members may have received ideas, especially if they interact with the broader community on a regular basis. It might help to observe intergenerational-type events that already take place outside of the library, or even just interactions among generations in an informal setting.
GETTING THE PROGRAM OFF THE GROUND
Planning and implementing intergenerational programming can prove challenging for any library, but this may be especially true if the library has a small staff. Collaborating with other library departments is an effective way to pool resources and ideas. Reaching out to a community group or organization is another option. It might prove beneficial to start with an organization or institution that is located near the library or shares a common interest. When the Vernon Area Public Library District launched its Digital Literacy Outreach Program, which familiarized residents at the senior center Sunrise of Buffalo Grove with smart phones and other electronic devices, it needed to find students who would be interested in teaching these skills. Stevenson High School, located just down the street from the Library in Lincolnshire, had a pool of potential volunteers through its Youth Rotary group.
In some cases, a grant can make the planning process easier, especially if funding is a challenge. That is the approach the Carbondale Public Library took when it successfully applied for an Ezra Jack Keats mini-grant. The grant allowed the Library to host book-making, intergenerational storytelling, and art exhibit projects with the Boys and Girls Club of Carbondale and Senior Adult Services.
SCHEDULING AND ADVERTISING THE PROGRAM
Once the planning process is complete, the next step is to schedule and advertise the activity in a manner that draws as many attendees as possible from across different generations. Keep in mind that certain times of the year may not be as convenient for particular groups, especially younger people who are in school and have classwork, extracurriculars, and other activities during the academic year. Similarly, community organizations might have their own events scheduled. If possible, hold the program in the evening or on the weekend, when all age groups, including schoolchildren and working adults, are most likely to attend. Summertime is another option, although family vacations and other activities might interfere.
Connecting the program to an event or holiday can help draw more people. This is the approach that the Prospect Heights Public Library District and the Chillicothe Public Library District took for their respective events in which participants built gingerbread houses. A library doesn't necessarily need to tie the programs to the December holidays, however, as other ones, such as Halloween, offer opportunities for variations on the theme.
Spreading the word about the event is vital, especially if a library hopes to draw members of the broader community who rarely or never visit it in person. Use social media, local newspapers and television, the library's own publications, and other avenues for communication. Remember that word-of-mouth is also a very effective way to attract participants, especially if a program turns out to be particularly popular and current attendees are eager to tell their family and friends about it.
In advertising the program, a useful strategy is to emphasize whether or not the event is intended for particular generations. This will help ensure that the people who attend find the activities as interesting and worthwhile as possible. In some cases, though, it might be better not to advertise the event as strictly "intergenerational", especially if it is difficult to predict whether multiple age groups will actually come. It also helps to emphasize just what the activity will entail; a vague or inaccurate description might dissuade some people from coming, especially if the event is technology-oriented.
Sometimes, requiring registration is necessary, particularly if a library has limited space and supplies available. On the other hand, allowing anyone who happens to be in the library to participate can create a more spontaneous, less-structured environment conducive to creativity, while drawing more attendees. This is what the Normal Public Library discovered with its Art For All Ages events and Normal Public Library Tiny Book Concerts, which were "drop-in" activities.
Inviting families can be an effective way to bring in multiple generations. In some cases, it might even be possible to make the event family-specific. For instance, the Roselle Public Library District started a Grandparents Got Game event, consisting of board games, crafts, and snacks. Holding family events during the holidays (such as the aforementioned gingerbread-house-making workshops), when relatives are more likely to be visiting, can prove an especially effective way to draw people, including those from outside of the library's core user group.
ACCOMMODATING DIFFERENT GENERATIONS AND BREAKING DOWN BARRIERS
Getting everyone into the room together is just the first step in making certain the event proceeds smoothly and all participants have a good time. Members of one generation might not have much experience interacting with people from another generation, or they might hold stereotypes of particular age groups. Similarly, behavior one age group might consider normal, such as talking among teenagers, might prove distracting or annoying to older people, who may prefer a quieter environment. Making behavior expectations clear beforehand will help avert any uncomfortable situations and ensure a pleasant and worthwhile experience for all involved. Having an "icebreaker" activity can lighten the mood and help members of the different generations start becoming more familiar with each other.
Remember, also, that certain age groups might have particular needs. For instance, seniors, in particular, may be hard of hearing, so make certain any instructions that activity leaders give orally are clear and easy to follow. Transportation might be a challenge for children, especially if school is not in session, and also for seniors who no longer drive. Some age groups, especially seniors, might find visiting the library in person difficult, even if they do have transportation. This creates an opportunity to "go to them," however.
When holding events outside the library, keep in mind that certain environments might not be suitable for particular age groups. For instance, senior centers may not be designed for small children, as the centers are usually not particularly roomy or "child-proof." It might be good to give the children an "orientation session" beforehand, to make them more familiar with the environment and help convey any expectations. The Vernon Area Public Library District found this strategy useful for its Oaks & Acorns storytelling and music program at Sunrise of Buffalo Grove.
Try to make the programming as interactive as possible. That way, everyone's attention will be devoted to the activity, and all participants will find it more fun and worthwhile. Arts-type activities, in particular, can offer participants a "creative outlet" that might be hard to find elsewhere, especially in a smaller or rural community. In some instances, though, participants may simply feel more comfortable sitting and watching.
Make certain there are plenty of supplies for the activity, especially if it is a hands-on artistic or crafts endeavor. If the library cannot provide enough, encourage attendees to bring their own, if possible, so they can share. Try to avoid passing any costs along to participants, as this could discourage some people from attending. In certain cases, though, charging a small amount may be necessary, such as for sewing kits. If using technology, ensure that library staff have at least a basic understanding of it and can readily assist patrons (or, if not, know how to contact support services for the technology). In the event that any of the supplies could prove dangerous, such as sharp needles for a knitting project, make certain to emphasize this beforehand and provide appropriate supervision.
MOVING FORWARD WITH INTERGENERATIONAL PROGRAMMING
After the attendees have left, and library staff and volunteers have finished cleaning up the event space, what is the next step? A library may discover that a particular activity turns out to be especially popular. Use feedback to consider how to make it appealing to even more people, especially if it included just certain age groups the first time. Conversely, if a program doesn't draw a high turnout or seem particularly worthwhile to those who do come, don't necessarily give up on it; use observations and suggestions to make it more interesting and worthwhile.
Most importantly, be willing to adapt, even during the programming itself. It may be challenging for library staff to think creatively about programs that will attract people of various age groups and interests, but this also presents a strong opportunity for greater collaboration and unity, both in the library itself and with the outside community. At all events, be willing to help participants, but also keep in mind that the activity should be "self-generating" and fun for everyone involved. In some situations, the librarian's role might be that of an observer, on call to assist as needed.
Libraries that have done intergenerational programming often find that participants give positive feedback. The events give the different generations an opportunity not just to interact, but also to learn from each other. Above all, such programming increases the library's profile in the community and clearly demonstrates its ongoing value as an educational and cultural resource open to everyone.
ACKNOWLEDGMENTS
The author would like to thank the following individuals for taking the time to share their knowledge and expertise: Jennifer Johansson and Diana Brawley Sussman, Carbondale Public Library; Gail Hintze, Chillicothe Public Library District; Felicia Murray, Eldorado Memorial Library; Kim Tipton, McHenry County College (formerly of Crystal Lake Public Library); John Fischer and Tori Melican, Normal Public Library; Sue Seggeling, Prospect Heights Public Library District; Christy Snyders, Roselle Public Library District; and Jen Ernsteen and Rachel Shulman, Vernon Area Public Library District.