December 2018 | Volume XXXVI. Issue 6 »
Reaching Forward: Thirty Years Strong... and Counting!
November 29, 2018
Heidi Knuth, Bloomingdale Public Library/Reaching Forward Forum
"Our mission is to provide professional opportunities for library staff to grow, learn, and connect with new ideas."—Reaching Forward Library Conference Mission Statement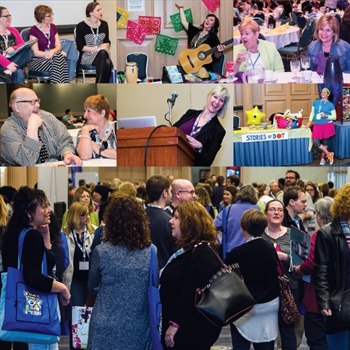 AN INNOVATIVE BEGINNING
Once upon a time (1988), in a library system not so far away, an idea was born: that library staff—at all levels—should have opportunities for professional development relevant to their positions and careers. Miriam Pollock, of the North Suburban Library System, had seen a conference for library assistants and non-MLS staff offered in New Jersey and decided to replicate it for library workers in Illinois. She gathered a committee of ten library staff committed to excellence in their fields, and the Reaching Forward Library Conference was created.
Originally sponsored by the Metropolitan and North Suburban Library systems, the conference was held at the College of DuPage in 1990 and 1991, with a maximum attendance of 200 library support staff. After a few years, sponsorship was taken up solely by the North Suburban Library System under the leadership of Sarah Long, whose dedication to continuing education kept the conference afloat. Due to the quality of the programs presented, an extensive waiting list prompted continued growth until the conference found its home at the Illinois Library Association and taking place in Rosemont, where it is now held every year on the first Friday in May, with attendance hovering around 1000 participants.
2019 will mark the thirtieth anniversary of Reaching Forward, which has nurtured future library leaders, influenced the creation of Reaching Forward South (an independent conference with similar goals, more convenient to libraries in southern portions of Illinois), and sponsored events at the Illinois Library Association Annual Conference, while bringing in a small profit as well.
DOLLAR FOR DOLLAR, A SOUND INVESTMENT
As library budgets have changed and/or decreased, many have chosen to send their staff to Reaching Forward, regardless of position. Many of the presentations are ones that have been offered at professional conferences such as the Illinois Library Association Annual Conference, the American Library Association Annual Conference, and others. Jane Jenkins, director of the Green Hills Public Library District, brings her entire staff, as their library in-service training day.
"When I asked for Board agreement to close the library for a staff development day on the first Friday in May I added that I would like all staff to attend this conference," notes Jenkins. "Their response was a unanimous 'What a wonderful idea!' Most part-time staff don't get the opportunity to attend conferences so they appreciate this opportunity." It's a great bargain for the library because for little more than the price of one or two presenters for the whole day, the staff is able to attend varied sessions that are most relevant to their positions, enjoy a plated meal and dessert, and get out of the library and meet people from other libraries as well as socializing with coworkers in a different environment. More and more libraries are making use of staff that are part-time, or who shoulder various responsibilities that may or may not have originally been in their job description. With an increased focus on collaboration and cross-training, Reaching Forward remains an economical way for staff to fill in gaps or get additional support for roles they find themselves in on a day-to-day or occasional basis.
A BROAD-BASED LEADERSHIP TEAM
In the beginning, "the committee was made up totally of library assistants. We didn't have anyone with a [master's in library science] degree," says Tobi Oberman, founding committee member and longtime co-chair. "One year, we invited 25 library directors to tell us what we could do to convince them to send more of their staff. Then we added a few to the committee, so we could have the ear of the directors and they could do PR for us. It worked for everybody." Though originally intended for— and limited to—library support staff, "things began to change as degreed librarians were attracted to the quality of our programs and many of our assistants went on to get their degrees and wanted to still attend," according to Oberman.
Not only does the conference serve to educate and inspire library staff at all levels, but it provides a springboard for leadership and involvement in the profession at large. Betsy Adamowski, executive director of Wheaton Public Library and past ILA president remarks, "My time serving in that role was one of the best leadership roles that I have had and I wear the Reaching Forward Committee member badge with great pride and honor. Truth be told, being on the committee was hard work, but it was fun hard work and meeting the many library leaders who served on the committee was a priceless gift." Committee members come from all sizes and types of libraries, with a wide range of professional and life experiences. For many, this is their first experience working on a professional committee, while others are experts in their fields. From academic and public libraries, departments from adult and youth services, to administration, to technical and circulation services, this diversity informs the decisions that are made and ensures representation across the programs and topics offered at the conference.
The Reaching Forward Conference has traditionally embraced a "whole person" approach—recognizing that library staff members aren't simply their roles, but people—whose lives and interests inform and affect their ability and enthusiasm in the jobs that they do in libraries. Sessions throughout the day focus on communication, skills, motivation, culture, and wellness, while the exhibit hall offers library materials, vendor relationships, continuing education opportunities and information, professional networking, and products and services designed to enrich lives above and beyond the library's walls. One conference attendee adds: "A family member calls this 'the earring conference' because I go to so many it can get confusing, but she remembers the beautiful gift I bought her here." The conference has offered talk tables, office yoga instruction, retirement-planning assistance, seminars from Nordstrom on business attire, mentoring, and even live animal vendors.
CHANGING LIBRARIES, CHANGING CONFERENCE
The past thirty years have seen seismic shifts in the way that libraries perform and the expectations of our communities, both internal and external. Ever responsive and proactive in the programming it offers, Reaching Forward's planners also modified the schedule of the day itself. The decision was made to eliminate a keynote speaker to create space for more than ten individual sessions, ensuring that attendees can make the most of their day and library administrators get the most training for their dollar. A program proposal submission process was introduced in 2017, paving the way for a more streamlined workflow and facilitating the balance amongst the various topics and tracks that the conference offers each year.
Four Performer Showcase events were added in 2015 after a local library performer showcase held by another organization migrated online, in recognition of our attendees' reliance on seeing potential performers in person before making a booking decision. In addition to the exhibit floor, where attendees can find many varied library program and performer options, having the Showcase ensures that our conference is offering curated selections of tried-and-true program presenters so that library staff planning programs can book events with confidence
REACHING TOWARD 2019... AND BEYOND!
Reaching Forward has had a strong collaboration with the Illinois Library Association ever since it became affiliated with the association under the leadership of former executive director Bob Doyle, and in recent years has formalized that partnership to become a forum of ILA, complete with bylaws. Currently, progress is being made to convert the Reaching Forward Forum into a committee of the Association, which is more in keeping with the operation and purpose of the group as the steering body for an annual event. New members are welcomed every fall, as previous ones move on to other opportunities, change positions, or even retire. "We always kept a light, friendly banter, and that's why people want to be on the committee. It was always a labor of love and joy," says Oberman. Over the years, awards in honor of Doyle and longtime co-chairs Tobi Oberman and Tom Rich were added to recognize outstanding service from library staff and sponsor their attendance at the Reaching Forward and ILA conferences. And this year, special additions are being planned to celebrate the fact that after three decades of serving library staff, we are poised to keep reaching into the future for both our inspiration and our library leaders of tomorrow. We are, literally, "Reaching Forward!"