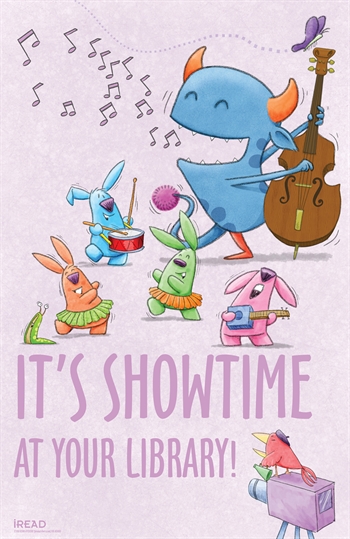 Use your 2019 iREAD Resource Guide as a guide to designing an outstanding summer reading program at your library. Ideas ranging across all age groups in decorations, programming, resources, and implementation strategies are bursting throughout the guide.
This year's all-star lineup of illustrators have captured the glitz and glimmer, comedy, and adventure of SHOWTIME:
• Pre-K art by Kevan Atteberry
• Children's art by Gregg Schigiel
• Teen art by Dennis Pryber
• Teen art from Kill Shakespeare by Conor McCreery, Anthony Del Col, and Andy Belanger
• Adult art by Janet K. Lee
• Plus, an all-ages poster by Alexander Hage
It's Showtime at Your Library is an excellent summer reading theme for all of your patrons. Graphics and programs feature all types of performance, from movies and theater to puppetry, dance, poetry, videos, and more.