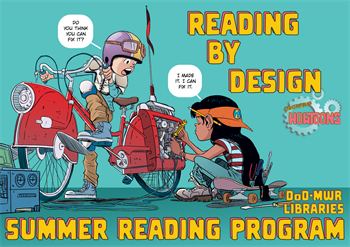 Use your 2017 iREAD Resource Guide as a blueprint to designing an outstanding summer reading program at your library. Ideas ranging across all age groups in decorations, programming, resources, and implementation strategies are bursting throughout the guide.
The artwork accompanying the guide, which is yours to use in any way your library can imagine, defies expectations. Nationally known author/illustrator Mike Curato created a stunning poster and spot art featuring the loveable Little Elliot, his friend Mouse, and many architectural wonders of the world. Nick Dragotta of Howtoons draws in diversity with his elementary age poster of pint-sized inventors. Chicago native graffiti artist, James Spurgeon, created a bright and colorful poster that will pull in the teens. Another Chicago artist/photographer, Russell McGonagle, shot an exclusive architectural alphabet for iREAD, creating a poster that can encompass several age groups while being sophisticated for adult reading programs.
With Reading by Design, you can be the architect, designer, engineer, and builder of your best Summer Reading Program yet!