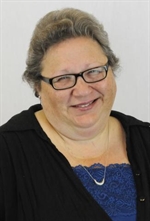 Janice M. Del Negro, PhD, is a professor at the School of Information Studies at Dominican University, where she teaches storytelling, children's and young adult literature, and foundations of library and information science. She is a storyteller, author, educator, and coach. Her extensive list of presentations and publications includes a textbook on storytelling coauthored with Ellin Greene; two children's picture books (the ALA Notable Book Willa and the Wind and Lucy Dove); and a collection of supernatural tales for young adults, Passion and Poison. Her book, Folktales Aloud: Practical Advice for Playful Storytelling, was awarded a Storytelling World Resource Award in 2015. Her 2017 book (with Melanie Kimball, PhD) Engaging Teens with Story: How to Inspire and Educate Youth with Storytelling, was named SLC/ARBA's Best Professional Resource for School or Youth Librarians (2018).
Del Negro serves on the boards of Illinois Storytelling, Inc. and Northlands Storytelling Network. She has been a featured speaker, storyteller, and workshop leader at the National Storytelling Conference and Festival, the Society for Children's Book Writers and Illustrators, Illinois Storytelling Festival, Mariposa Storytelling Festival, Tejas Storytelling Festival, and many other celebratory events. In 2016, Del Negro received the National Storytelling Network's ORACLE Circle of Excellence Award.
--Marie Ringenberg, Professional Storyteller
There are several ways to make your donation:
Contribute online https://www.ila.org/donate/submit (enter your donation in the "Illinois Library Luminaries" box and add

 Janice'

s name in the "Dedication or additional information" box).  
Mail your check to ILA, 33 W. Grand Ave., Suite 401 Chicago, IL  60654-6799. 
Or, call ILA (312-644-1896) to make your donation over the phone.  
All donations are fully tax-deductible and will be acknowledged as soon as received. Thank you for your interest in supporting ILA and Janice's nomination.