2016 Library Architecture in Illinois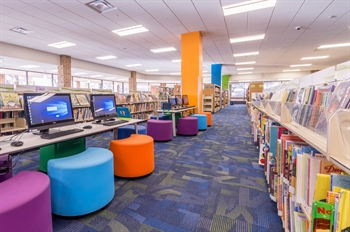 Naperville Public Library Renovation
Kmiecik Imagery
Naperville Public Library
Name of Architect: Williams Architects
Type of Project: Major renovation
Total Project Cost: $3 million
Service Population: 144,864
Library Director: Julie Rothenfluh

What People Are Saying:

"They've expanded things so much and there's more research material. To me, it's just wonderful. My grandchildren come here once a week for reading and activities, and they are going to enjoy this. And the library did a great job keeping things available during all the renovation."

"There is a brightness here now, both literal and metaphorical. Years ago, libraries were these places where quiet was expected and they lacked conversation and movement. I feel now that people of all ages can naturally engage with one another. This is what a community is supposed to be – it's naturally inviting."