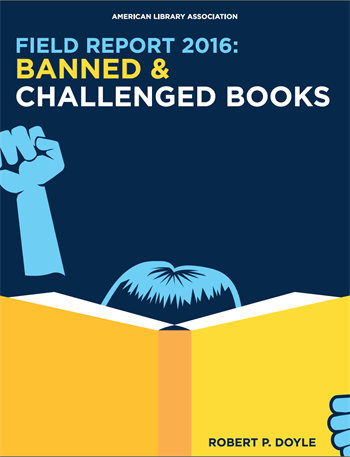 Banned Books Week 2017 continues thirty-six years of celebrating—and protecting—the freedom to read. This freedom to choose what we read from the fullest array of possibilities is firmly rooted in the First Amendment to the U.S. Constitution, the amendment that guarantees freedom of speech and freedom of the press. Even as we enjoy a seemingly limitless and expanding amount of information, there is always a danger of someone else selecting what is available and to whom. Would-be censors, who come from all quarters and all political persuasions, threaten our right to choose for ourselves.
---
This list highlights a portion of public challenges from 2016. A "challenge" is an attempt to remove or restrict a book, whereas a "ban" is the actual removal of the book. The list includes many titles familiar from years past, as well as newly published books that caught a censor's eye. Many of the books were retained through established processes of review. The challenges were brought by parents, by government bodies, and in some cases by school officials. The decisions on whether to retain the books were by school boards, courts, and committees.
In a number of cases, active protests resulted in books being retained in libraries and on reading lists.
In Imperial, Pennsylvania, a fifteen-year-old West Allegheny High School students spoke out about the challenge to Jeannette Walls' The Glass Castle at a school board meeting, while handing board members a petition signed by two hundred students to keep the novel on the high school's reading list.
Daniel Radosh, a writer for The Daily Show,spotted the irony of his child having to get a signed permission slip to read Fahrenheit 451, Ray Bradbury's cautionary tale about censorship. In his own ironic twist, Radosh wrote a thank-you note to the teacher, saying the permission slip was "a wonderful way to introduce students to the theme of Fahrenheit 451."
When John Green's Looking for Alaska was challenged by a parent in Marion County, Kentucky, educators, students, and even the author rallied to keep the book in the high school curriculum. A local public librarian built a banned books display that included all of Green's titles, former students wrote to the local paper in defense of the book, and John Green encouraged readers to write letters of support to the high school teacher who stood by her decision to use the novel in her curriculum.
Many of the locales are also familiar—elementary, middle, and high school libraries, as well as recommended reading lists. But the range of places where these attempts at censorship occur may surprise you.
Public libraries in Toronto and Westmont, Canada
A public library in Montana
A school library in Qatar
A bookstore in Shanghai, China
A private school in Kampala, Uganda
Prison libraries in Texas and other states
The entire country of Ireland, where the Irish Censorship Board banned a book for the first time in 18 years
Banned Books Week 2016 also saw some firsts. With support from the American Library Association, several organizations united to host Banned Books Week programs throughout London. In Washington, D.C., the public library scattered banned books around the city for a scavenger hunt and posted clues on social media. Not be outdone, seven bookstores across the United States hosted banned book read-outs on the same night for "A Night of Silenced Voices."
Banned Books Week continues to focus on the diversity of authors and ideas that have prompted a disproportionate share of challenges. The American Library Association's Office for Intellectual Freedom estimates that more than half of all challenged or banned books are either written by authors of color or contains content that represent groups or viewpoints outside the mainstream.
U.S. Supreme Court Justice William Brennan, in Texas v. Johnson, said, "If there is a bedrock principle underlying the First Amendment, it is that the Government may not prohibit the expression of an idea simply because society finds the idea itself offensive or disagreeable." Objections to sex, profanity, and racism in literature are the most common examples of attempts to censor, and most objections occur in schools and school libraries. Individuals are free to choose what they themselves or their children read, but it is not a role for governmental or public agencies.
Book challenges and attempts to censor are not mere expressions of a point of view; rather, they represent requests to remove materials from schools or libraries, thus restricting access to them by others. Even when challenges are overturned and the book is allowed to stay on library shelves, the censorship attempt is real and has an impact. Teachers may be reluctant to place the book on future reading lists, and librarians may be hesitant to purchase "controversial" books.
This bibliography documents both challenges and bannings, calling our attention to a practice that many think is no longer a threat. And in fact, it includes only a fraction of such attempts. Research shows that only about 3-18 of challenges are reported. The report is also limited to books and does not include challenges to magazines, newspapers, films, broadcasts, plays, performances, electronic publications, or exhibits.
Some of the titles on the list will seem predictable, others might be surprising. Because of the celebration of Banned Books Week since 1982, most of them are still available in schools and libraries. Don't take their presence for granted.
This bibliography represents books challenged, restricted, removed, or banned in 2016 as reported in the Journal of Intellectual Freedom and Privacy (JIFP).