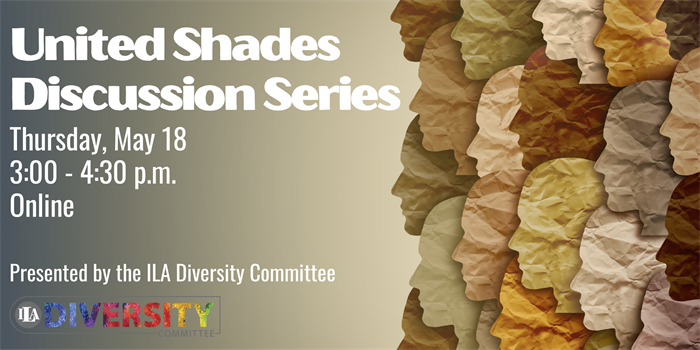 Given the current social climate, it is challenging to find a safe space to celebrate and explore our unique qualities, be they cultural, racial, physical, or sexual.
Although libraries across the country provide services and resources to patrons related to diversity issues, library professionals have recognized a lack of diversity in the field and a lack of knowledge surrounding diversity which can lead to misunderstandings, stereotypes, and discrimination.
Communication and dialogue are often powerful tools for addressing these sensitive issues. The ILA Diversity Committee seeks to explore diversity within librarianship by providing opportunities to promote understanding and inclusivity through critical discourse where important perspectives, ideas, and solutions can be heard.
The ILA Diversity Committee will present and host a United Shades Discussion Series to foster a culture of inclusivity and discussion. This discussion series is inspired by the CNN show United Shades of America, where W. Kamau Bell explores different communities in the US and their unique challenges.
Each discussion will be framed around a single episode of the television series. Attendees are encouraged to share their thoughts and participate in the discussion.
The first viewing will take place on Friday, March 31st, at 1:00 p.m. Registration is required. The event will not be recorded.
This free event is open to all Illinois libraries. If you have any questions about this series, please contact Tamara Jenkins at tjenkins@ila.org. 
---
United Shades of America
Episode: "The New KKK"
Description: African-American comedian Kamau Bell heads down south to meet with members of the KKK looking to rebrand their message. Below is a sneak peek of the episode.