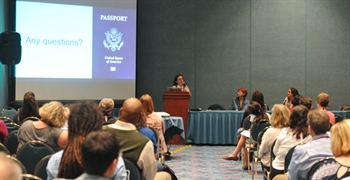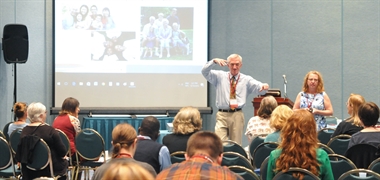 Log into the Speaker Service Center to update your information, upload handouts, and access additional speaker information. 
Speaker Resources

The Conference Program Committee has compiled a list of resources that may be helpful in preparing for your presentation.
Rosemont Floor Plan & Room Capacity Chart

Speaker FAQ
Are speakers required to register for the conference?
Reaching Forward provides complimentary registration for speakers. 
How many people will attend my program?
Attendance varies between programs. It is suggested speakers plan for 75-100 attendees. 

Will AV be available?
Each program room will include a projector, screen, and WiFi access. Because internet connections in conference centers can be spotty or slow when many users are online, consider bringing a wireless hot spot if your presentation uses an online program like Google Slides. Save your slideshow in multiple formats (PDF or jpg) just in case the WiFi isn't cooperative.
Do I have to bring my own computer and adaptor?
Yes. The conference does not supply computers. Speakers whose programs require computers must bring their own device. If your device doesn't have a VGA port, please bring an appropriate adaptor. A limited number of adaptors will be available onsite. 

What is the policy on handouts?
All speakers are asked to make their handouts and/or slides available for attendees to download. Handouts can be submitted using the Speaker Service Center by Thursday, May 2. Speakers may provide paper copies of their handouts at their own expense. Please use your best judgment in deciding if printed handouts are necessary for your program.