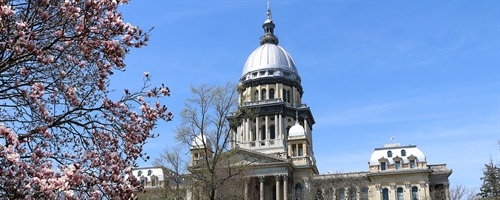 This year's legislative events will look a little different. While our virtual meet-ups the past two years have been successful, the Advocacy Committee decided it was time for something new. Our 2023 events will focus on making our legislative endeavors hyperlocal. In place of regional events, we encourage library advocates to meet with elected officials in your districts. This could be a visit to your legislators' offices, a tour of the library, or even a joint event with neighboring libraries. 
We will help you prepare for these local events by offering two statewide webinars and additional advocacy resources. Advocates are encouraged to attend Get Ready to Advocate on February 22, followed by Library 101 for Legislators on February 27th. By attending both of these webinars, you will be ready to schedule, plan, and attend a meeting, tour, or event with your legislator. Don't forget to share any photos and recaps from your meeting with ILA.  
Step 1: Get Ready to Advocate
Wednesday, February 22, 10:00 - 11:00 a.m. 
This virtual event will prepare library advocates to meet with their legislators. The presentation will include highlights from the Ready, Set, Advocate program. You will leave with resources and be ready to advocate with confidence. This session will be recorded for later viewing. 
Step 2: Library 101 for Legislators
Monday, February 27, 10:00 - 11:00 a.m. 
This statewide, virtual event will focus on bringing together newly elected legislators and library advocates rather than being geographically centered. Library trustees, directors, and staff from public, school, and academic libraries are encouraged to attend and participate. The event will be similar to the 2021 and 2022 meetups and there will still be opportunities for Q&A. What won't change is our commitment to advocating for Illinois libraries! This session will not be recorded, primarily due to the rapid pace of legislative developments and content may change.
Step 3: Report Back and Let Us Know How It Went
After your meeting, tour, or event send your photos and report to ILA so we can share them on our website. Our goal is to reach every part of the state. 

Illinois Legislative Issues

---
Registration

Advance registration is required, so don't wait! If you have questions regarding registration, contact the ILA office at ila@ila.org. 
This year's virtual events will be free for ILA members, including staff and trustees from ILA institutional member libraries. For non-members who wish to attend, registration will be $15. 

Please allow for at least 24 hours after you submit your registration to receive your registration confirmation directly from Zoom. 

If you have any questions, please email ila@ila.org
---