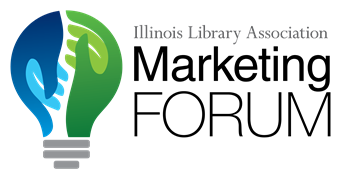 Marketing Forum Roundtable
Let's Get Together! 
Friday, August 19, 2022, 11:00 a.m. - 12:00 p.m.
Hybrid Event at Palatine Library District (in-person) and on Zoom (virtual)
Join the ILA Marketing Forum for the first hybrid roundtable discussion on August 19 at the Palatine Library District (PLD)! Meet forum members, network with your colleagues in the Illinois library community, and share what your library has been up to or what you've been working on.
We'll have some tasty snacks, and take a tour of the newly renovated Palatine Library. If you intend to attend the event in person, please register by emailing Tamara Jenkins at tjenkins@ila.org with the subject Registration for Marketing Forum Roundtable at PLD by Monday, August 8. If you prefer to attend via zoom, please register using the link below. 
This event is free and open to all Illinois libraries. You do not have to be a member of the ILA Marketing Forum to attend. This event will not be recorded. If you have any questions about this event, please contact Tamara Jenkins at tjenkins@ila.org. 
The Palatine Library District is located at 700 N. North Court, Palatine, IL.