The Illinois Youth Services Institute is a joint project of the Library Administrators Conference of Northern Illinois (LACONI) and the Illinois Library Association (ILA), in collaboration with Reaching Across Illinois Library System (RAILS) and Illinois Heartland Library System (IHLS). The Institute will bring together youth and young adult services librarians from around the state for two days of learning and networking.
IYSI Planning Committee
Co-Chairs
Susan Farnum, Forest Park Public Library 
Alice Kuhn, Hinsdale Public Library 
Members
Jen Abler, Oak Lawn Public Library
Jess Alexander, Morton Grove Public Library
Lisa Barefield, Wheaton Public Library
Sara Bell, Dunlap School District
Lyndsey Carney, Normal Public Library
Kathy Dejnowski, Thornton Public Library
Stuart Griner, Chicago Public Library 
Lindsey Herron, Wood River Public Library
Tiffany Lewis, Eisenhower Public Library
Ellen Popit, Illinois Heartland Library System 
Margae Schmidt, Reaching Across Illinois Libraries System
Staff Liaison
Kristin Pekoll, ILA Conference and Continuing Education Manager
Join the Conversation!
#IYSI2023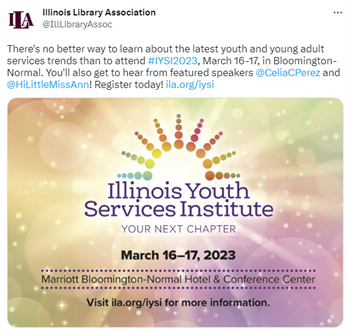 Diamond Sponsors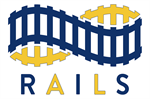 Sapphire Sponsors