Exhibits: October 11-12

The 2017 ILA Annual Conference is a chance for the library community to come together and share our ideas to better our communities, our institutions, and ourselves. Held at the Tinley Park Convention Center, October 10-12, the conference will be a unique opportunity to reach libraries of all types across the state.
Exhibits Prospectus - Download the Prospectus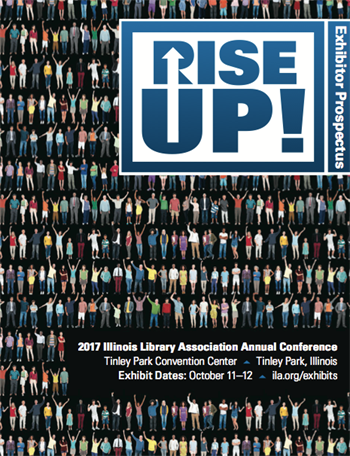 Exhibitor Search/List - See which companies are already exhibiting.
Expo Hall Floor Plan - View the 2017 ILA floor plan.
Exhibit Space Reservations - We have an array of booth locations and sizes for showcasing every kind of library product and solution. Reserve your booth today! 
Standard Booth Rate: $1,200 per 10' x 10' booth
Open Corners: There is a $100 charge per each open corner
Applications submitted on or before June 9, 2017 must include a $500 nonrefundable deposit payment. Applications submitted after June 9, 2017 must include full payment.
Exhibitor Console - for registered exhibitors
Exhibits Schedule
Tuesday, October 10, 2017
9:00 a.m. - 5:00 p.m. Exhibit Move-in
Wednesday, October 11, 2017
8:00 a.m. - 11:00 a.m. Exhibit Move-in
Noon - 5:00 p.m. Exhibit Floor Open
Thursday, October 12, 2017
9:00 a.m. - 2:00 p.m. Exhibit Floor Open
2:00 p.m. - 5:00 p.m. Exhibit Move Out
Conference Sponsorship Information - Reach beyond your booth
Conference Advertising Information - Advertise in the Program Book
Conference Attendee List - Contact attendees before the conference
Reserve your exhibit space/questions:


Eileen Roselle Fitzgerald

ILA Exhibit Manager

(312)265-9638

Register your exhibitors for the booth/questions:

Tina Koleva 

ILA Product Services Manager

(312)644-1896