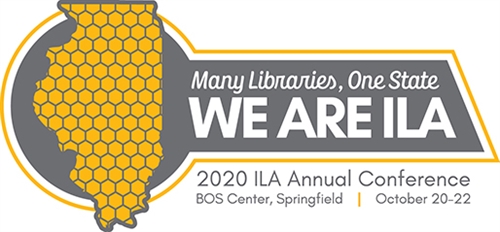 Exhibits: October 21-22
The 2020 ILA Annual Conference embodies the diverse and multi-type membership of ILA and highlights the innovative and creative work members do in their libraries. Held at the BOS Center in Springfield, October 20-22, the conference is a unique opportunity to reach libraries of all types across the state.
Download the Exhibitor Prospectus

Expo Hall Floor Plan - View the 2020 ILA floor plan.
Exhibitor Search/List - See which companies are already exhibiting.
Exhibit Space Reservations - We have an array of booth locations and sizes for showcasing every kind of library product and solution. Reserve your booth today! 
Standard Booth Rate: $1,300 per 10' x 10' booth
Open Corners: There is a $100 charge per each open corner
Applications submitted on or before June 12, 2020 must include a $500 nonrefundable deposit payment. Applications submitted after June 12, 2020 must include full payment.

Exhibitor Badges: Your exhibit booth includes 6 exhibitor badges designated for company staff only that will be working the booth. In September, prior to conference, each company will receive an email from ILA to register their staff for the booth. Each company must provide the names and email addresses for each of their staff members that will be exhibiting in order to properly register them and have the badges ready on site.

Note: If a company is interested in purchasing exhibits only passes, please email ila@ila.org for more information. Pre-registration for exhibits only is required. One day exhibits passes only are available for purchase at $20 which includes a full access to all exhibits and a lunch. 
ILA Associate Members receive a 10% discount of the price per square footage of the booth and $100 off the attendee mailing list (total of up to $230 in savings). Annual Associate Membership dues are only $200. 

Not sure if your company is a member? Check our online Associate Member Directory. Email tina@ila.org for more information or to join. Click here for more information and additional benefits of membership.
Exhibitor Console - for registered exhibitors
Exhibits Schedule
Tuesday, October 20, 2020
9:00 a.m. - 5:00 p.m. Exhibit Move-in
Wednesday, October 21, 2020
8:00 a.m. - 11:00 a.m. Exhibit Move-in
Noon - 5:00 p.m. Exhibit Floor Open
Thursday, October 22, 2020
9:00 a.m. - 2:00 p.m. Exhibit Floor Open
2:00 p.m. - 6:00 p.m. Exhibit Move Out
Hotel Information

Conference Sponsorship Information
Passport to Prizes - Direct more traffic to your booth
Conference Advertising Information - Advertise in the Program Book
Conference Attendee List - Contact attendees before the conference

Statement of Appropriate Conduct - All participants are expected to observe the rules and behaviors described in the Statement of Appropriate Conduct in all conference venues, including online venues, and conference social events.
Reserve your exhibit space/questions:


Craig Boehmke

ILA Exhibit Manager

(312)265-9645

craig@corcexpo.com

Register your exhibitors for the booth/questions:

Tina Koleva 

ILA Product Services Manager

(312)644-1896

tina@ila.org