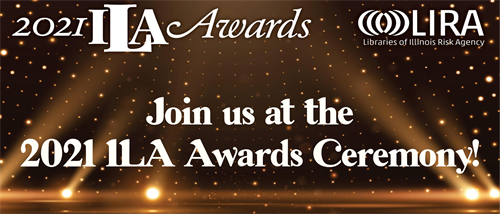 Cheer on your colleagues in the Illinois Library Community! 
Register today for the 2021 ILA Awards Ceremony! This year's awards ceremony is pre-recorded, and we are inviting the Illinois library community the opportunity to view the ceremony on zoom on Thursday, October 14, at 4:00 p.m.

If you are registered to attend the 2021 ILA Annual Conference you do not need to register for the ceremony because it will accessible on the conference platform. 

If you are not registered to attend the conference, you must register to view the ceremony. We are limiting registration to 200, so please register early! 

The deadline to register for the awards ceremony is Friday, October 8, 2021. If you have any questions, please contact Tamara Jenkins at tjenkins@ila.org. 
Registration for this event is closed.