Page updated 06/02/2021
Contents
Legal, Financial, & Library Board Governance Resources updated 6/1/2021
Illinois Governor's Orders and Libraries updated 6/2/2021
Illinois Department of Public Health Resources
Safe Handling of Library Materials
Illinois Library Organizations
Sample Approaches from Public Libraries
World Health Organization Resources
ILA Bigger Than A Building Campaign 
---
Introduction to the Issue
Information about the coronavirus, or COVID-19, is being continually developed, updated, and shared. Libraries and library staff are urged to consult authoritative sources such as the CDC, the WHO, and the Illinois Department of Public Health. A great deal of information from these outlets is being shared by ILA, ALA, ISL, and others, and noted below. 
As of November 2020, we are aware that libraries across the state differ in approach, depending on the situation in different communities. We are also aware there is some desire for state guidance on matters including materials quarantine, closure to in-person public services, and more; and are aware the Illinois State Library has reached out to work with the Illinois Department of Public Health for such guidance. It is crucial that library-specific guidance not be developed without input from the library community, and we will share any opportunities and any eventual guidance that is developed.
As public spaces, libraries face a particular challenge when dealing with a public health challenge. ILA will keep this page updated and share news in the ILA Alert electronic newsletter. If you have a resource to suggest, or a question that you do not see answered, please email ILA Executive Director Diane Foote. Please note: We may not always have an answer, because this is a developing situation and everything about the novel coronavirus is not yet known, but we will do our best to find out.
---
Legal, Financial, and Library Board Governance Resources
NEW! 6/1/2021

 

View ILA's index to American Rescue Plan Act (ARPA) library-eligible opportunities specifically for Illinois libraries.
6/22/2020: The deadline to apply for IEMA public assistance funds, earlier announced as 4/12/2020, has been

 

extended indefinitely,

 

in recognition that COVID-19 is an "ongoing" emergency. 
4/1/2020: Public libraries and public library districts ARE eligible to apply for Public Assistance (PA) FEMA funds via the Illinois Emergency Management Agency (IEMA). Special non-profit libraries are also likely to be eligible to apply. School and academic libraries should seek guidance from their administrative authority about possible application/applicability, as their parent organization might already be seeking funding. Key points: 1) There is a

 

minimum of $3,300 in "eligible extraordinary uninsured costs"

 

(defined under "Category B – Emergency Protective Measure Costs" on the document below) that include, but are not limited to, such things as "disinfection of eligible public facilities" and "state, tribe, territory and/or local government force account overtime costs" due to the COVID-19 pandemic; 2) There is a cost share (25% applicant, 75% federal funds); and 3) The current application deadline is

 

April 12, 2020.

 

A good place to start is IEMA's Coronavirus (COVID-19) Pandemic: Eligible Emergency Protective Measures Fact Sheet. This is an admittedly complex opportunity but one that may be worth exploring: Everyone is encouraged to go over it with your library's legal counsel and/or finance staff.

 

Comprehensive information provided to ISL and ILA by IEMA on 3/31/2020

 

includes steps applicants should take, a great many links, definitions, and resources, and contact information for further questions and guidance. The process is somewhat involved, but following the bulleted items in the document from IEMA is the best way to get started.

 

4/6/2020 update: Slides from a March 27, 2020 presentation

 

"FEMA and COVID-19"

 

by Gallagher, the insurance firm that supports ILA's

 

Libraries of Illinois Risk Agency (LIRA) pool. 
4/16/2020: 

On April 13, the Institute of Museum and Library Services (IMLS) 

announced

 steps to allocate the first $30 million of $50 million appropriated to the agency under the 

Coronavirus Aid, Relief, and Economic Security (CARES) Act

. 

The funds will be distributed to states on a per capita basis, with

 

Illinois

 

receiving $1,145,000, which will enable us to "expand digital network access, purchase internet accessible devices, and provide technical support services to citizens to address digital inclusion efforts and related technical support." The funds will be distributed through the LSTA Grants to States program, and the Illinois State Library will provide information on the process as soon as it is available from IMLS.
3/29/2020: On March 27, 2020,

 

H.R. 748, the Coronavirus Aid, Relief, and Economic Security (CARES) Act

 

became law. The CARES Act includes $50 million to be distributed to states via IMLS and we will need to await guidance from IMLS on the process for awarding, although we expect the mechanics to work via the existing Grants to States program.

 

ALA has summarized resources in the Act that are directly related to libraries.
3/29/2020: On March 26, 2020, Governor Pritzker issued

 

Executive Order 2020-14, which grants a notary temporary authority to perform remote notarizations within the state of Illinois. This authority is terminated when the Gubernatorial Disaster Proclamation, issued on March 9, 2020, is rescinded or expires. This is important for libraries to know for two reasons: 1) many libraries do offer notary services; and 2) in case in case a notary were to be required, per local library or municipal rules, to attest to board action or other activities taken by the public body.
3/29/2020: On March 18, 2020, President Trump signed into law a new Act, the Families First Coronavirus Response Act ("FFCRA"). The purpose of FFCRA is to serve as a response to the evolving COVID-19 Pandemic. FFCRA' s provisions specifically include the Emergency Paid Sick Leave Act ("ESPLA") and Emergency Family & Medical Leave Expansion Act ("Emergency FMLA"), both which provide for paid leave for eligible employees who are unable to work (or unable to telework) due to a need for leave related to COVID-19 reasons. FFCRA also directed the U.S. Department of Labor to prescribe instructions or regulations necessary to carry out FFCRA, including its EPSLA and Emergency FMLA provisions. The U.S. Department of Labor issued guidance on both of FFCRA's EPSLA & Emergency FMLA provisions on March 25, 2020. The Law Offices of Dalal M. Jarad, Schaumburg, IL, prepared a "Summary of Core Points of the U.S. Department of Labor's Guidance on Paid Leave Under the Emergency Paid Sick Leave Act and the Emergency Family & Medical Leave Expansion Act,"

 

which provides insight & guidance on these 2 components of FFCRA as may impact Illinois public libraries. Library Directors are urged to review this material with their own HR and/or legal counsel to ensure understanding and compliance. 

HR Source has also provides helpful Q&A, including "The Families First Coronavirus Response Act: Your Questions Answered," and

 

FFCRA Q&A#2,

 

dated 4/3/2020; Ancel, Glink's labor & employment law blog "The Workplace Report with Ancel Glink" also addresses the issue.
3/29/2020: IHLS has provided

 

guidance from library attorney Phil Lenzini dated 3/26/2020 regarding compliance with the "Stay at Home" order.

 

3/23/2020: On March 20, 2020, Governor Pritzker issued

 

Executive Order 2020-10

 

declaring "Stay at Home" status for the entire state. Here are

 

FAQs provided by the state; we are also pleased to share HR Source's

 

"Illinois Executive Order: Stay-at-Home"

 

and Ancel, Glink's

 

Municipal Minute blog post

 

on the topic. Much of the information in these sources is duplicative and consistent; we include them all here for the sake of comprehensiveness.
3/18/2020: The

 

Illinois Attorney General

 

has posted

 

"Guidance to Public Bodies on the Open Meetings Act and the Freedom of Information Act during the COVID-19 Pandemic." The Law Offices of Dalal M. Jarad, Schaumburg, has prepared a

 

"Summary of Core Points in Executive Order 2020-07 and the Illinois Attorney General's Guidance to Public Bodies. Municipal Minute, authored by Ancel, Glink, also addresses the issue.
3/17/2020: Every public body must still post an agenda at least 48 hours in advance of holding any regular meeting electronically. Public notice of any special meeting that will be held electronically, except a meeting held in the event of a bona fide emergency, or of any rescheduled regular meeting, or of any reconvened meeting, likewise shall be given at 48 hours before such meeting, which notice shall also include an agenda for the special, rescheduled, or reconvened meeting. Public notice with agenda for any emergency meeting should be posted by the public body as soon as practicable. Public bodies are encouraged to provide video, audio, and/or telephonic access to such meetings to ensure members of the public can monitor the meeting, and to update their websites and social media to keep the public fully informed of changes to their meeting schedules or the format of their meetings due to COVID-19 (source: Law Offices of Dalal M. Jarad, Schaumburg).
---
Illinois Governor's Orders and Libraries
Read Governor Pritzker's executive and administrative orders and disaster proclamations here. 

6/2/2021 update: On May 28, 2021, Governor Pritzker issued Executive Order 2021-11, extending some emergency measures, including the ability for boards of public bodies to operate with a virtual quorum, through June 26. 
5/20/2021: On May 17, 2021, Governor Pritzker issued Executive Order 2021-10, aligning the State of Illinois' mask mandate with recently released CDC guidelines. Executive Order 2021-10 preserves the right of local municipalities and individual businesses and organizations to maintain stricter masking and social distancing requirements than the state's, consistent with the CDC guidelines, which state "that [fully vaccinated people] can resume numerous activities without wearing a mask or staying 6 feet apart, except where required by federal, state, local, tribal, or territorial laws, rules, and regulations, including local business and workplace guidance." (emphasis is ILA's) Specifically, executive order 2021-10 states in section 3:
"3. Public health requirements for businesses, nonprofits, and other organizations.
For the purposes of this Executive Order, covered businesses include any for-profit, nonprofit, or educational entity, regardless of the nature of the service, the function it performs, or its corporate or entity structure. Those entities must take the following public health measures to protect their employees, their customers, and all others who come into physical contact with their operations. Nothing in this Executive Order prevents these entities from undertaking stricter or additional public health measures; to the contrary, businesses are encouraged to prioritize the health and safety of their workers and customers, and may continue to require face coverings and social distancing, even for those who are fully vaccinated." (emphasis is ILA's)
Libraries may maintain masking and social distancing policies that fit the metrics in their communities and meet the needs of the populations served; including young children not yet eligible for vaccination and/or teens and adults who cannot receive the vaccine. 
02/03/2021 update: Regions 8 and 9 Move to Phase 4. 
02/02/2021 update: Region 10 moves to Phase 4.
02/01/2021 update: Region 7 moves to Phase 4.
01/31/2021 update: Region 11 moves to Phase 4.
1/26/2021 update: Regions 8 and 9 move to Tier 1.
1/25/2021 update: Regions 1 and 2 Move to Phase 4.
1/23/2021 update: Regions 10 and 11 move to Tier 1.
1/22/2021 update: Region 4 moves to Tier 2, all regions out of Tier 3 Mitigations, Regions 10 and 11 on track to advance to Tier 1. 
1/18/2020: Eight regions advance tiers as the state launches its surge staffing program to support hospitals. Updated information on the changes and the criteria can be found on the IDPH website. 
1/15/2020: Effective immediately Regions 1, 2, and 5 have moved into Tier 2 COVID-19 Resurgence Mitigations.
12/11/2020:Governor Pritzker issued a disaster declaration and issued Executive Order 2020-74, reissuing many of the previous executive orders pertaining to the COVID-19 pandemic, including extending EO 2020-73, which imposed Tier 3 mitigation measures throughout the state until January 9, 2020.
11/23/2020: Governor Pritzker's Executive Order 2020-73 putting into place the Tier 3 mitigations.  
FAQs on the Department of Commerce and Economic Opportunity (DCEO) website explicitly mention libraries (see p.8), noting that "The operations of libraries are at the discretion of local governmental entities." The Secretary of State and State Librarian's Legal Counsel's Office said about the Department of Commerce and Economic Opportunity (DCEO) information:
"The local governmental entity is the public library board for a library district organized under the Public Library District Act of 1991 (75 ILCSA 16/1-1 et seq.) and the public library board, in consultation with the corporate authority, for a library organized under the Local Library Act (75 ICLS 5/1-1 et seq.)."
11/17/2020: With a new wave of COVID-19 surging across the state of Illinois and the nation, all eleven regions will move into Tier 3 effective November 20, 2020, at 12:01 a.m. Full details on Tier 3 mitigations are available on the IDPH website. The key sentences for libraries appear to be the following, found on the IDPH website:
"The provisions above apply to industries/sectors with Restore Illinois Phase 4 guidance or other mitigations. Other functions (i.e. infrastructure, governments, logistics and warehousing etc.) that previously have not been subject to specific guidance may continue regular operations but are encouraged to voluntarily take proactive steps to support new mitigation strategy wherever possible. In these areas, customer serving functions should be limited to 25 percent capacity, aligned with Retail mitigations, and maximize work from home wherever possible."
11/2020:As cases surge in Illinois and elsewhere, the Governor has indicated mitigations for every region in the state per the mitigation plan noted below.
7/15/2020: Governor Pritzker and Illinois Department of Public Health Director Dr. Ngozi Ezike announced a new COVID-19 mitigation plan focused on combating a resurgence of cases while maintaining the progress the state has made towards bending the curve over the last four months. 

6/22/2020 Governor Pritzker has released guidance for Phase 4 of the Restore Illinois Plan, expected to begin June 26, 2020. Here is a two-page printable summary.
6/10/2020: On May 29, 2020, Governor Pritzker issued Executive Order 2020-38, "to safely and conscientiously resume activities that were paused as COVID-19 cases rose exponentially and threatened to overwhelm our healthcare system" and Executive Order 2020-39 extending the declaration of disaster in all Illinois counties.
5/8/2020 ILA Statement on Governor Pritzker's "Restore Illinois" Plan
In light of Governor Pritzker's "Restore Illinois" plan establishing phases and regions for re-opening the state, as well as the recent extension of a "stay at home" order through May 30, ILA recognizes that not every library, nor every community, will feel comfortable or ready to re-open library buildings to in-person public services on the same timeline.
Libraries are crucial to communities, as are schools and government buildings, though libraries are not explicitly listed in the Governor's executive orders as "essential." The executive order dated May 1 makes explicit that units of local government may determine which functions the unit deems "essential." Libraries have remained open virtually, providing services through the stay-at-home orders.
ILA reaffirms the critical role library workers play in our communities. Safety and support for library workers is key when making plans to reopen to public services.
ILA's guidance is for local decision-makers to consider issues such as:
sufficient, effective protective measures and cleaning supplies
understanding of the virus's viability (or lack thereof) on returned library materials
capacity of your area's medical facilities if cases of the virus were to increase as graduated re-openings commence
preserving the well-being and health of the community
 ILA also recommends that every library monitor the guidance issued from the Illinois Department of Public Health.
5/1/2020: Today, Governor Pritzker's Executive Order 2020-32 extended the state's stay-at-home status through May 30.
4/27/2020: On Thursday, April 24, 2020, Governor Pritzker announced his intention to extend Illinois' stay-at-home order through May 30, 2020, effective May 1. The executive order authorizing it will not post until then, with a chance that it will change between the April 24 announcement and May 1. This extension follows the April 1 Executive Order 2020-18, itself an extension of the original March 20 Executive Order 2020-10. These Executive Orders supersede the 3/16/2020 ILA Statement on Library Closures, although the statement remains valid.  
3/16/2020 ILA Statement on Library Closures 
In light of Governor Pritzker's recent closing of Illinois public schools, restaurants, and bars, his disaster proclamation, and recommendation to avoid  large gatherings, as well as the news that cases of COVID-19 are appearing in more areas of the state, the Illinois Library Association recommends that public libraries, and academic libraries on campuses that have otherwise closed, in Illinois suspend public operations, including closing for a period of time. 

While normally public libraries may invite children to come to the library in the event of an emergency school closing, this is not the best course of action when trying to curb a contagious disease. Because containment works best when all organizations participate, many libraries and other cultural organizations are deciding to close while the schools are closed. 

Libraries are a gathering place in the community and on campus, frequently bringing together significant numbers of people. In order to minimize opportunities for transmission, and to protect both community members' health and library employees, the best service we can offer is protecting our community with social distancing, canceling programs, extra cleanings, and closing, regardless of whether there are  known cases in your library's service area or on your campus.

Ultimately, barring a government mandate, the decision to close must be made at the local level; ILA also recommends that every library monitor the guidance issued from the Illinois Department of Public Health.
---
Illinois Department of Public Health Resources
The IDPH provides COVID-19 information and updates on mitigation plans in Illinois.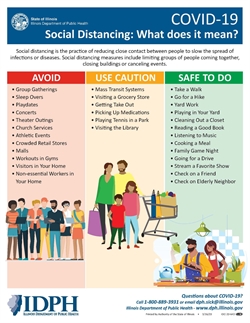 02/03/2021 update: COVID-19 Vaccine Update - State Directs Excess Vaccine from Pharmacy Partnership Program to Those Eligible in Phase 1B.
01/12/2021: ILA is advocating with IDPH for public librarians to be eligible for the COVID-19 vaccine in Phase 1b or at the latest, Phase 1c, noting that decisions about the extent to which libraries are open to in-person public services are being made on a local level, and the localities will need to know that decisions they make are in keeping with state guidance.
01/12/2021: The IDPH has launched a website giving updates on the COVID-19 vaccine rollout.
01/7/2021: Illinois is currently in Phase 1 of COVID-19 Vaccine administration. As Illinois continues to scale its vaccination program, Governor Pritzker, Dr. Ezike, the Illinois Department of Public Health and the entire administration are committed to an equity-centric vaccination approach. 
---
Safe Handling of Library Materials
REopening Archives, Libraries, and Museums (REALM) is a research project conducted by OCLC, the Institute of Museum and Library Services, and Battelle to produce science-based information about how materials can be handled to mitigate COVID-19 exposure to staff and visitors of archives, libraries, and museums.
05/20/2021: The REALM project has published a briefing, prepared by researchers at Battelle, intended to provide timely information about SARS-CoV-2 vaccines and variants to libraries, archives, and museums (LAMs), and their stakeholders. This is a review of scientific literature published through April 26, 2021, and should be used in conjunction with other timely resources to ensure decision-making in LAMs reflects the latest scientific understanding.
02/11/2021 update: The REALM project has published the results of Tests 7 and 8 of Battelle's laboratory testing for infectious COVID-19 virus on materials commonly found in archives, libraries, and museums. These tests compare the effect of colder and warmer temperatures on the attenuation rate of the virus on materials previously tested at ambient room temperatures.
02/04/2021 update: REALM project to explore virus viability on library materials has made available a recording of its January 29 webinar "Project Updates and Community Reflections" as well as a toolkit synthesizing information from the CDC on cleaning and disinfecting considerations.
12/17/2020 update: New REALM toolkit materials and videos are available to help support the interpretation and use of REALM laboratory research.
11/19/2020 update: The REALM project has released results from test set #6 of coronavirus on five common building materials: architectural glass, marble, countertop laminate, brass, and powder-coated steel. Results show that after two days, SARS-CoV-2 virus was no longer detectable on the brass and marble. After six days, virus was not detected on the glass, laminate, and powder-coated steel.
10/22/2020 update: Test set #6 is underway and toolkit materials are available. Five materials that are commonly found in furnishings and exhibits of archives, libraries, and museums were selected for the sixth REALM lab test. Battelle researchers will apply a quantity of infectious COVID-19 virus to each item and then place the items unstacked in a test chamber that maintains standard office temperature and relative humidity, with no additional light or airflow. The test will measure how much virus remains after 1 hour, and then after 2, 4, 6, and 8 days under those environmental conditions. The findings from Test 6 can inform prevention and decontamination tactics for handling furnishings, equipment, and exhibits that include these materials.   

10/22/2020 Visual Aid of REALM Test Results: The REALM project has completed five rounds of test on materials to determine how long the SARS-CoV-2 (the virus which causes COVID-19) can survive on surfaces common in archives, libraries and museums.The chart includes information about whether the item was tested in a stacked or unstacked configuration, the type of material tested, and how many days the virus was found to survive on the material. Details on all of the REALM test results, are also available. The resource can be used to share information about the REALM project with your stakeholders. The COVID-19 pandemic is an evolving situation, and this resource be updated as new information becomes available.

10/22/2020 Decision-Making Checklist: While working toward resuming operations and services to the public, many factors and resources (national, state, local) should inform your local decision-making. This list of considerations offers a starting point and includes links to guides and additional information for archives, libraries and museums. The resource can be used to share information about the REALM project with your stakeholders. The COVID-19 pandemic is an evolving situation, and this resource will be updated as new information becomes available.

10/14/2020 update:  For test set #5 results show that after eight days of quarantine, SARS-CoV-2 virus was still detected on leather and synthetic leather materials. For the polyolefin fabric and nylon webbing, only the amount of virus after the initial 1 hour of drying time could be measured. No data for the cotton fabric could be collected or reported.

9/02/20 update: Results of test set #4 show that after six days of quarantine the SARS-CoV-2 virus was still detected on all five materials tested. When compared to Test 1, which resulted in nondetectable virus after three days on an unstacked hardcover book, softcover book, plastic protective cover, and DVD case, the results of Test 4 highlight the effect of stacking and its ability to prolong the survivability of the SARS-CoV-2 virus.

8/18/2020 update: Results of test set #3 show that after five days of quarantine the virus was not detectable on the storage bag or the DVD. The storage container, plexiglass, and the USB cassette all showed recoverable virus at five days. Day five was the final timepoint tested.

7/20/2020 update: Results from test set #2 in the first phase of the REALM Project conducted by IMLS with OCLC and Battelle have been released. This set tested braille paper pages, glossy paper pages from a coffee-table book, magazine pages, a children's board book, and archival folders, all of the items in stacks. From the OCLC WebJunction announcement: "Results show that after two days of quarantine in a stacked configuration, the SARS-CoV-2 virus was not detectable on the archival folders. After four days of quarantine in their stacked configuration, the virus was not detectable on the braille pages, glossy book pages, and board book. The magazine pages showed a trace amount of virus at four days. Day four was the final timepoint tested." Please note: Researchers do not yet know how much of the virus is required to cause an infection; science has not been able to definitively rule out infection from handling materials as opposed to breathing in droplets. Therefore, it is difficult to come up with a recommendation for safe handling of library materials. Libraries are urged to consider the number of days in both sets of test results when deciding how long to quarantine returned library materials. 

6/22/2020: Results from test set #1 in the first phase of the REALM Project conducted by IMLS with OCLC and Battelle to study the viability of COVID-19 on library materials have been released, indicating no viability on a number of types of materials after three days, including a hardback book cover (buckram cloth), a softback book cover, plain paper pages inside a closed book, a plastic book covering (biaxially oriented polyester film), and a DVD case.
---
Illinois Library Organizations
United for Libraries, a division of ALA, hosted "Looking Forward: Planning for Reopening" on April 24, 2020, with suggestions and discussions for planning ahead toward the time when library buildings can re-open safely to the public.
Illinois Heartland Library System (IHLS) COVID-19 Update page

 

offers general information, the latest materials quarantine information for the system, a way to report library closures with regard to delivery, IHLS and SHARE recommendations, periodic Directors Chats in Adobe Connect, and more.
Reaching Across Illinois Library System (RAILS) Library Pulse page

 

includes 

general information, the latest materials quarantine information for the system, current news, information on what RAILS and libraries are doing regarding the virus, further suggestions on actions libraries might take, and links to other resources. Post your library's policies and information about any closings.

SWAN (System Wide Automation Network), a consortium of 92 libraries in the southern and western Chicago suburbs, offers COVID-19 related resources to its members including a reopening plan survey, list of patron services while library buildings are closed, and more. 
---
American Library Association
---
Related Articles and Resources
What Public Libraries Need To Know About the Coronavirus This

 

Library Journal

 

article provides an authoritative list of websites and books on COVID-19 and infectious diseases in general. It includes a link to academic resources on the coronavirus, including articles made free that are usually paywalled.
A Guide to COVID-19 (coronavirus disease 2019) for Public Libraries Bobbi Newman at the National Network of Libraries of Medicine (NNLM) Greater Midwest Region has compiled a list of resources including the NIH, CDC, WHO, NAACHO, information in Spanish, news resources, maps and visualizations, and books.


Library 2.0 Special Webinar - "Librarians Respond to Coronavirus and Other Pandemics" Featured speakers include Michele Stricker, Deputy State Librarian of Lifelong Learning at the New Jersey State Library; Siobhan Champ-Blackwell, Medical Librarian at the National Library of Medicine; and Jacqueline Leskovec, Network Librarian at the National Network of Libraries of Medicine. It was free to participate, with Library 2.0 membership and registration required, and took place on March 26, 2020 at 3:00 p.m. CST.
"Libraries and Pandemic Preparedness: Addressing COVID-19 with Facts and Outreach," American Libraries

 

3/5/2020
---
Sample Approaches from Public Libraries
4/20/2020: As we look ahead to a time when the state may start to "re-open," libraries are planning ahead. Both RAILS (scroll down to "What RAILS Is Doing") and IHLS (click on "IDEA FILE for Virtual Services & Phased Reopening of Illinois Libraries") are collecting potential plans; we include a few here as examples but please be sure to check the systems' sites, and also share your plans with them. The Vespasian-Warner Public Library District in Clinton has developed a graduated service levels model, from building closure with virtual services, to limited in-person services, to comprehensive public services with social distancing measures. The Midlothian Public Library has developed a tentative reopening plan, with caveats about what needs to be known and/or in place in order to implement each step. Many thanks to the directors, boards, and staff of these public libraries for developing these plans and sharing them with us. 
Public Library Pandemic Response Procedures, from Vernon Area Public Library District Features guidance for several levels of public health challenge, including approaches for library staff, patrons, and the general public.
Coronavirus and your library, from Oak Park Public Library 

Information compiled for the use of library patrons includes information about COVID-19, travel, symptoms, prevention and treatment, guidance for households, and more information to assist communities.

3/18/2020: Suggestions for facilities maintenance while buildings are closed, from the Bloomingdale Public Library: Flush all the toilets daily; if the seals dry up it can cause an expensive repair. Run hot water in a number of sinks for a few minutes; keeps your hot water heater from building up rust and potentially failing. Check on your ejector pits, you may need to manually run the pumps to empty them to the city sanitary system. Run your HVAC system to keep the air handlers moving the air; this will mix fresh outside air into your building while ejecting old inside air. If you have one, run the elevator a few times daily to keep the seals and valves full of hydraulic fluid. 
---
CDC Resources
---
World Health Organization Resources
---
Employment Related Resources
---
ILA Bigger Than A Building Campaign 
Illinois Library Association's Bigger Than A Building campaign is designed to help the library community quickly convey information to its publics during the Illinois Stay at Home executive order.