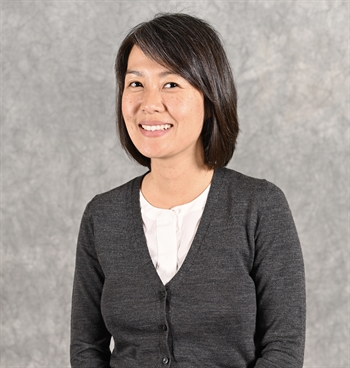 Michelle Oh, Northeastern Illinois University
Statement of Concern

Illinois libraries have faced the challenges of 2020 with grit and grace. Libraries of all kinds have opened doors to patrons and created new ways to safely deliver our services. In good times and bad, the professional development opportunities and advocacy for library workers and patrons that the Illinois Library Association provides has proven itself invaluable. Through budget impasses and pandemics, the Illinois Library Association has provided forums to discuss our concerns, share our solutions, and advocate for our collective future.
Collaboration between libraries and types of libraries only strengthens our ability to serve our communities. I have learned this first hand as a member of the Chicago Public Libraries' Teen Health Advisory Task Force, which is creating training opportunities for frontline youth services librarians working with teens who turn to their branch libraries with health-related questions. At NEIU, we also collaborate with local high school teachers and librarians at the Chicago Public Schools, suburban school districts, and the Chicago Metro History Fair to expose students to college-level research skills and resources. Through these visits and workshops, I have learned what kinds of information seeking skills students are entering Illinois colleges with and what resources are available to school libraries. Partnerships like these demonstrate how Illinois libraries can and do support one another in our shared mission to provide access to information and further equity in our communities.
Diversity, equity, and inclusion are central to my professional values. I have presented my own experiences striving to provide more inclusive library practices and services at ILA annual conferences and am grateful to have learned from colleagues at these same events. In this year of great uncertainty and change, the work of the Illinois Library Association (ILA) is more essential than ever. It is an honor to be considered for any role that advocates for Illinois libraries and it would be a privilege to serve.
Experience
Northeastern University Libraries
     Education Librarian/Associate Professor, 2016 - present
Lake Forest College, Donnelley and Lee Library
     Reference Librarian, 2010 - 2016
Northwestern University Libraries
     Reference Department Assistant & InfoCommons Evening Supervisor, 2007 - 2010
Education
MA Literature, Northwestern University, Evanston, IL, 2011

MLIS, Dominican University, River Forest, IL, 2008

BS Human Development and Family Studies, University of Illinois at Urbana/Champaign, 2002
Professional Memberships and Activities

Illinois Library Association, Member
American Library Association, Member
Asian and Pacific American Librarians Association, Member
     Mentor, 2020-2021
Association of College and Research Libraries, Member
CHOICE Reviews, Book Reviewer, 2017 - present
Chicago Public Libraries' Teen Health Advisory Task Force, 2020- present
LIBRAS Illinois Library Consortium, Secretary, 2015-2016
Northwestern University Library Staff Association, Treasurer, 2009-2010
Consortium of Academic and Research Libraries in Illinois (CARLI)
     Open Education Resources Committee, Member, 2020-2021
     Collection Management Committee, Member, 2017-2019
Modern Languages Association, Member
     MLA International Field Bibliographer, 2016 - present
     MLA International Bibliography Fellow, 2013 - 2016