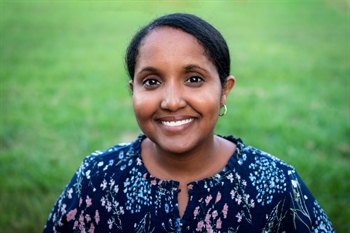 Jordan Neal,
Champaign Public Library
Statement of Concern

Every library has their share of priorities; however, equity, diversity, and inclusion should be important for all libraries. The Illinois Library Association can fulfill a key role in empowering Illinois libraries to continue their efforts towards EDI approaches, initiatives, and more.
As a co-chair and member of ILA's Diversity Committee, I strived to address a variety of issues related to EDI. Within the last year, the Diversity Committee took the lead by encouraging dialogue including hosting EDI conference programs, surveying, and most importantly, inviting all ILA members to the discussion. Working directly with the Executive Board, the Diversity Committee facilitated conversations and provided a direct link between board and ILA members. I was privileged to contribute towards these activities, but the work is far from over.
When I was encouraged to join ILA, I was invited by a leader within my library. She encouraged me as I went through my library graduate program and as I participated in ILA. These meaningful moments can be encouraged and applied within libraries especially by library leaders. It is with support from library leaders that has connected me with opportunities and successes throughout my career. I now focus on the everyday interactions in addition to the systemic changes. I serve as a mentor to graduate students and understand the importance of my role as a librarian of color with close to 20 years of experience. My nomination and subsequent ILA award for a colleague of mine, granted her well-deserved attention and praise locally. It rightfully recognized a contributor to our profession. Someone who served as a role model to many, including me, yet a minority in every sense when it comes to librarianship. The work of ILA and Illinois libraries are important, but any individual can take action. Library leaders have the potential to make change with the support of their staff. ILA can continue to provide resources and opportunities to keep Illinois libraries connected and supported.
I am impressed by the work of Illinois libraries and ILA, especially during such an uncertain time. It would be an honor to continue to serve ILA. As a member of the ILA Executive Board, I will bring my experiences within ILA, the profession, and most importantly, our communities. I would continue to work on welcoming and sharing ideas. The current situation has challenged us to adapt and to rethink everything. We can and should expand on this as libraries continue to evolve and rebuild our services. I am hopeful for the future and confident that we will continue to overcome obstacles and move forward together.
Library Experience
Champaign Public Library
     Career Librarian, 2019–Present
     Library Associate, 2007–2019
     Library Assistant, 2004–2007            
     Library Page, 2002–2004
Education
MSLIS, University of Illinois at Urbana-Champaign, 2017

BS, Psychology, University of Illinois at Urbana-Champaign, 2007
Professional Memberships and Activities
Illinois Library Association, Member
Diversity Committee, Co-Chair, 2020–Present
Diversity Committee, Member, 2017–Present
Coordinator & Moderator "ILA Voices: Let's Talk EDI," ILA Virtual Conference, 2020
Presenter, ILA Virtual Conference, 2020
Mentor, ALA Spectrum Scholars (Sylvia Murphy Williams program), 2020–Present
Author, "Teen Services: A Fresh Perspective," ILA Reporter, 2018
Public Library Association, Member
American Library Association, Member