The polls for the 2018 ILA election will open online April 1, 2018 and close on April 30, 2018. Election results will be announced the week of May 7, 2018, pending notification of all candidates.

All personal members of the association are eligible to vote.  Personal Members will receive a Survey Monkey notification including an electronic ballot to cast their vote.  You can view the candidates' bios below. 
Your personal membership must be current and active as of March 30, 2018, to receive a ballot. Email ila@ila.org if you are not sure about the status of your membership.
PRESIDENT-ELECT CANDIDATES
(three-year term beginning July 1, 2018–June 30, 2021)
Cathy Mayer, Trinity Christian College, Palos Heights 
Molly Beestrum, Columbia College, Chicago 
BOARD OF DIRECTORS (three-year term beginning July 1, 2018–June 30, 2021)
A candidate from each pairing will be elected in accordance with the ILA bylaws as amended at the 1998 ILA Annual Conference; a total of four directors will be elected to serve three-year terms on the ILA Executive Board.
DIRECTOR AT LARGE:
Diana Brawley Sussman, Carbondale Public Library 
Rick Meyer, Decatur Public Library
DIRECTOR AT LARGE:
Tim Jarzemsky, Bloomingdale Public Library 
Michelle Petersen, Plainfield Public Library District
DIRECTOR AT LARGE:
Larissa Garcia, Northern Illinois University, DeKalb
Jennifer Jackson, University of Illinois at Chicago
DIRECTOR AT LARGE:
Deanne Guccione, Pleasant Plains Middle School, CUSD #8, Pleasant Plains
Janine Asmus, Leyden High School District #212, Franklin Park
ALA COUNCILOR:
Jeannie Dilger, Palatine Public Library District
Steve Brantley, Eastern Illinois University, Charleston
---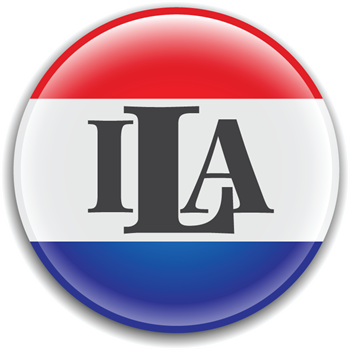 Any ILA member wishing to be added to the ballot by petition shall be added to the slate and placed in the paired candidate group that most clearly matches the affiliations of the petitioner as determined by the nominating committee. Petition candidates for vice president/president-elect will be added to the presidential slate as requested. The polls will open electronically April 1, 2018.
In addition, paper ballots will be sent to persons requesting one. The return deadline is thirty days after the ballot is postmarked. The electronic polls will close April 30.
Serving on the nominating committee are Pattie Piotrowski (chair), Beth Duttlinger, Tamara J. Kuhn-Schnell, Carl Lehnen, Rob Morrison, Christina Stoll, Sandra L. West and Denise M. Zielinski.