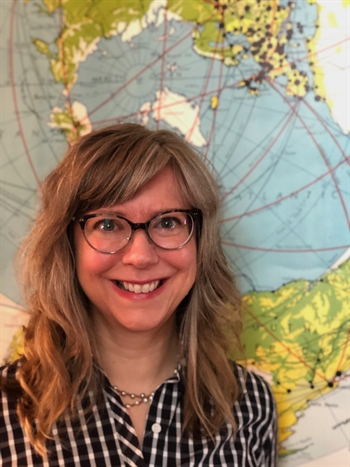 Heather Jagman, DePaul University
Statement of Concern 
It's a pretty amazing thing we do. Through our services and materials, libraries help people discover and build connections to themselves and to their communities. And in every community we serve, people appreciate us.
In study after study, libraries are ranked as a highly trusted resource. We have always invested our energy and talents in caring for our communities by providing them with information and resources at their point of need. However, as the challenges manifested by the current pandemic, political climate, and systemic social issues converged, disinformation and misinformation began to deepen the rift between people and ideas, putting immense strain on libraries, library workers, and the communities we support.
These are certainly precarious times, but they are not without hope!
Libraries bridge rifts and connect people and ideas. When the world closed down, libraries provided hope and information. We were at the ready with virtual programs, ebooks, and other services important to our communities. We were able to do this because we know our communities, and because we are a part of these communities. In order to continue to meet the diverse concerns of the people we serve, we also must investigate our own needs.
We need to support each other. What better place to start than ILA? Our association provides the structure and resources we need to restore and sustain the positive library energy required to deliver excellent service to our communities.  When we come together, we are a force for change for our field and the communities we serve.
ILA is the virtual space and physical place for us to recharge, connect, learn and develop our leadership throughout our careers.  It is our responsibility to the future that we cultivate and expand inclusion in our spaces and places by strengthening our ties to organizations and groups like the National Associations of Librarians of Color, BCALA, CALA, REFORMA, APALA and AILA, the Rainbow Roundtable and accessibility serving groups, while at the same time acknowledging and honoring intersectionality. Diversity and inclusion not only drive innovation, they ensure Illinois libraries are accessible, inclusive, and reflect the needs of our profession and the communities we serve.
It is an honor to be nominated to serve as President-Elect of the Illinois Library Association. I would welcome the opportunity to work with the Board and members to apply our positive library energy to expand the capacity of Illinois libraries to transform our communities. I have spent over twenty-five years working in Illinois academic libraries, consistently engaged with library workers across all types of libraries, from my early work leading workshops for the Chicago Metropolitan Library System, to my lifelong connections built through my Synergy leadership training in 2008, to being nominated to serve as co-chair of the 2019 Illinois Library Association Conference planning committee. I have maintained these connections over the years, and I am excited for the possibility of leveraging these experiences to engage the full diversity of ILA membership.
Experience 
DePaul University Library
     DePaul University Library
     Coordinator of Reference, Instruction and Academic Engagement, 2013-Present
     Coordinator of Library Instruction, 2010-2013
     Instruction and Outreach Librarian, 2006-2010
     Instructional Librarian and Technology Consultant, 2005-2006
     Assistant Instruction Coordinator, 2003-2005
     Barat Campus Librarian, Cooney Library, 2001-2003
Northwestern University, Chicago
     Reference and Instruction Librarian, The Joseph Schaffner Library, 1998-2001
North Central College, Naperville
     Instructional Services Librarian, 1996-1998
Education
MSLIS, University of Illinois at Urbana-Champaign, 1996
BA, English: Literature; Writing minor, Loras College, Dubuque, Iowa, 1992
Professional Memberships and Activities
Illinois Association of College and Research Libraries (IACRL)
     Secretary/Treasurer, 2019-2020
CARLI Counts, Cohort One.  Consortium of Academic and Research Libraries in Illinois (CARLI) and Institute of Museum and Library Services (IMLS).
     Mentor, 2019
Illinois Library Association 2019 Conference Planning Committee
     Co-chair, 2018-2019
Illinois Library Leadership Summit
     Bloomington Normal, July 2016
American Library Association, Association for College and Research Libraries, 1996 – present
     ALA Election Committee, 2011-2015
ACRL Instruction Section Membership Committee
     Member, 1998-2001
     Chair, 2001-2002
ACRL Instruction Section Pre-conference Planning Committee
     Member, July 2003 – July 2005
Library UX Chicago, Steering committee, founding member, 2014-2015
Assessment in Action: Academic Libraries and Student Success, ACRL and IMLS program, First Year Team Leader, 2013
Illinois Information Literacy Summit, Organizing Committee, 2013-2015
ERIAL Project: a two-year, multi-institution, ethnographic study of the student research process. IMLS LSTA program. Research team member, 2009-2011
Synergy: The Illinois Library Leadership Initiative, Class of 2008
Selected Publications

Heather Jagman and Troy Swanson. Not Just Where to Click: Teaching Students How to Think About Information. Chicago: Association of College and Research Libraries, 2015.
Heather Jagman. "'I Felt Like Such a Freshman:' Reflections on DePaul University Library's Assessment in Action Project." Putting Assessment into Action: Selected Projects from the First Cohort of the Assessment in Action Grant:. Ed. Eric Ackerman. Chicago: Association of College and Research Libraries, 2016.
Paula R. Dempsey and Heather Jagman. "'I Felt Like Such a Freshman': First-Year Students Crossing the Library Threshold." portal: Libraries and the Academy 16.1 (2016): 89-107.